From our friends at College Candy: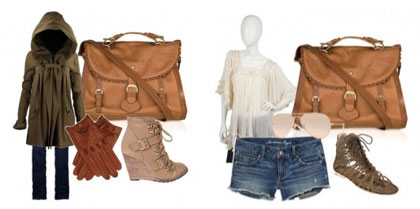 Even if you don't live in a cold climate (like Northwestern Ontario – there is a snowstorm going on as I write this!), you know there is a clear distinction between winter and summer wardrobe pieces, including handbags. For example, a purse covered in mink fur ain't gonna fly in July. Not only will you look silly, the fur with make your arm hot, causing it to sweat, which will mat the fur and make you smell like a wet dog. Okay, I know, a semi-graphic example, but I think my point has been made. Because of this distinction, it's important to incorporate some transition pieces into your closet. And this is where the Poya by See by Chloe comes in!
See is the diffusion line of Chloe, a chic French fashion house that is very popular with It Gals. Not only do they have a full ready-to-wear line of apparel, they also make gorgeous bags with the same street-style feel. While it may be hard to pull off a more couture Chloe dress for your day full of classes, a See by Chloe dress would be easy peasy. (Not to mention, easier on the wallet.)
The Poya is made of supple leather with dainty scallop details in a complementary shade. It's a medium-sized satchel (14 L x 11 H x 6 D), so it will fit all your purse essentials. While it may not fit multiple textbooks, it's the perfect size for a day of classes or shopping with your girls. The front flap opens up to reveal the main compartment, complete with a back zipper pocket for your precious trinkets.
View the rest of the reasons to love the Poya by See by Chloe here!