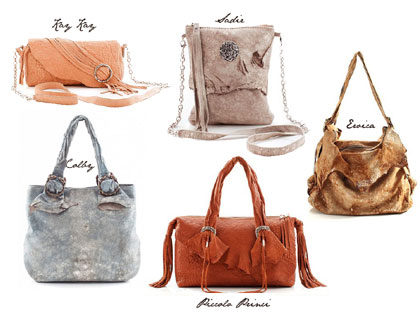 Butter soft leather, hand made hardware, hippie fringe – these are just some of the attributes that describe Jen Mascali handbags. Made by Italian master craftsmen in the finest factories in Tuscany, each bag is produced individually by hand. Details like laser-cut leathers and earth-toned natural leathers give each bag in the collection a raw and organic beauty unmatched by any. To own a Jen Mascali bag is to own a piece of art.
For her Spring 2011 collection, she chose a palette of neutral pastels, from peach, to tan to light blue. Some even have a gorgeous metallic sheen. Somehow the artist has achieved a collection that captures the free-spirited energy of the 70's with modern handbag silhouettes of today. The soft, slouchy shapes and luxurious materials lend themselves to the effortlessly chic aesthetic that makes up the Jen Mascali collection.
My favorites from the Spring collection are the Kay Kay, a beautiful fringed clutch with chain strap, and the Eroica, a slouchy hobo shoulder bag with knotted fringe – the ultimate in hippie chic!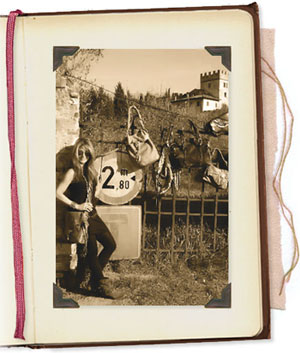 Launched in the Fall of 2010, Jen Mascali and her brother Chris created the first collection in New York, Milan and Paris. No strangers to art and design, their grandfather was a leather artisan who created shoes for Grace Kelly. Jen Mascali was recognized as an emerging designer by the prestigious Pitti organization and showed at the Hotel Ritz during Paris Fashion Week.
Jen Mascali bags retail between $438 – $1,350. For more information on the brand and where to buy, visit JenMascali.com.
For tips on taking care of your leather purses, read our post on How to Clean a Leather Handbag.