With so many beauty products promising to fix our facial flaws, it's always nice to be able to try before you buy. We were excited to find out about this free offer from ideeli & RAWMinerals. It's natural, eco-friendly and it works!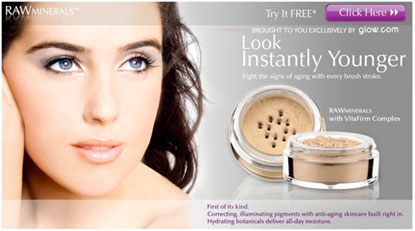 Here is what ideeli has to say about it:
"Who doesn't need a little "complexion-perfecting"? RAWMinerals is an eco-friendly, natural cosmetics line that promises to make you look instantly younger by flawlessly covering acne, sunspots, redness, and wrinkles without making you look dry and powdery. The makeup collection is rich in naturally occurring, high-performance botanical peptides and does not contain harmful nasties like parabens, petrochemicals, or synthetic dyes. Now you can discover for yourself why thousands of women are switching to RAWMinerals. You can try the line for FREE for 30 days. All you have to do is pay a small shipping and handling fee.
Need an invite to join ideeli? Here you go!