If there is one thing my mother taught me about beauty, it's that a good eye cream is of paramount importance. Ever since I was in high-school, I have been using an eye cream in the hopes of preventing those inevitable lines and wrinkles that come with age. The brands and formulas have varied, but each night, after washing my face, I've been using some sort of eye cream or gel.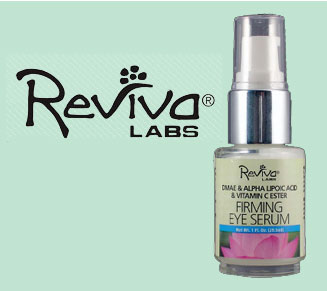 I recently had the opportunity to try out Reviva Labs Firming Eye Serum ($19). They kindly sent the product for me to review. I have to say, I'm kind of loving it. The formula isn't greasy, and it absorbs easily into skin. It feels more like a cream than a serum. There isn't really even a scent to it, which is nice. DMAE and Alpha Lipoinc Acid, plus Firming C Ester are the main ingredients of eye serum. It comes in a pump which is more sanitary than a tub.
I've been using the product for a couple weeks now, and feel like it has helped reduce puffiness around my eyes. (I know I've mentioned this before, but as a mom of two young kids, lack of sleep is the norm). I put it on at night after I wash my face, and in the morning before I apply my makeup. According to the package, Reviva Labs Firming Eye Serum is supposed to reduce the appearance of eye-area wrinkles, puffiness and dark circles and protect against future signs of aging.
Reviva Labs has been around since 1973 and has introduced many natural skin care products to the market. They do not test products on animals, rather in skin care labs. They take a clinical approach to natural products, helping you look younger. I will definitely keep using the firming eye serum, and recommend it to you beauties if you are looking for a new eye cream.
Where to buy: Online at RevivaLabs.com.