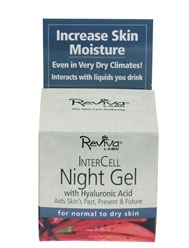 We all know how important a good night's sleep is. Over night, our skin cells get a chance to rejuvenate, leaving our skin healthy and refreshed in the morning. These days, sleep comes in small increments (my 7-month old is still working on sleeping through the night). And while I can't say I feel refreshed in the morning, I can say I have found a night gel that makes a difference in my skin. Reviva Labs InterCell Night Gel with Hyaluronic Acid is an extremely lightweight gel formula, that adds moisture to skin and works over night to protect against free radicals. Made from all natural ingredients, InterCell Night Gel with Hyaluronic Acid is a non-greasy formula that absorbs easily and leaves skin feeling smooth and soft. While ideal for dry climates, it works wonders in any weather condition.
I received a jar of Reviva InterCell Night Gel from Reviva and have been using it for a number of weeks now, in conjunction with their Firming Eye Serum. I love the results I've gotten from the two. My skin feels firm yet soft in the morning, not greasy or puffy. Also, I love that the ingredients are natural, and I am not using products that are full of harmful chemicals.
InterCell Night Gel with Hyaluronic Acid can be found online at Reviva Labs for $14. If you do end up purchasing, be sure to review the product on the Reviva Labs website. It's a great way to help others learn about great products to buy!