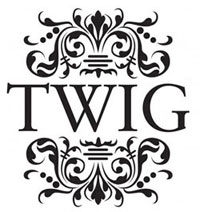 With Earth Week in progress, it's been exciting to scope out eco-friendly fashion and beauty products. I was recently introduced to a lovely natural makeup line called TWIG. Created by Seattle makeup artist Cara Hellings, TWIG Cosmetics was born out of a desire to design a product that's natural and has minimal impact on the environment. TWIG products currently include Lip Stains, Powdered and Liquid Foundations and Blush. They contain natural ingredients and no harmful chemicals.
I had the opportunity to try out some of this wonderful line, and wanted to share with you, our beautiful readers!

Powder Foundation: I typically wear a mineral powder foundation, so I was happy to learn that TWIG's is 100% natural. The Liquid Foundation is also 100% Natural (and 89% Organic)! Both come in a 10 shades to accommodate most skin tones (I wear 2W). The powder comes in a handy little pot and works best when applied with a kabuki brush. Pour a small amount of the powder into the lid, as a little goes a long way. The texture of the powder is super fine, and slightly shimmery. Powder blends easily into skin. Because such a little goes along way, it is important to apply a light coat and let it set in and warm to skin. Otherwise, you could easily put too much on and end up with cakey looking makeup. I love the look of my TWIG foundation. A light, non-makeupy finish that wears all day long.
Blush: Each blush is full of richly pigmented color. The colors range from a really light shimmery pinks to peaches to bronzes. Cara pointed out that cheek color is seasonal – and to have fun with changing up your shades. The color I chose, Ballard Ave., is pretty bronze that adds a sunkist color to cheeks.
Another great thing about TWIG products is that the line is totally versatile – you can wear blushes as shadows. I've been wearing Bell (the light pink blush) as an eyeshadow base.
Lip Stain: TWIG lip stains are freshly scented with peppermint oil, and glide on smooth with deep rich color. They can be layered on depending on how dramatic you want your lip color to be, and the best part is they last super long. The two colors I tried, Dahlia and Azalia are both really pretty. Dahlia is a deep plum and Azalia is a brighter, reddish pink. As with the foundations, a little goes a long way. You can apply with your finger or lip brush to get the desired effect.
TWIG cosmetics use no packaging, which means there is far less waste than most beauty products.
TWIG is Available exclusively in Seattle at Robert Leonard Salon and Day Spa, but it will be sold online in the near future. Check back here or on their Facebook page for updates!
Special Offer: If you are in Seattle, you can Save 25% on all TWIG cosmetics! Simply mention this blog post when you go in to the salon.
Robert Leonard Salon and Day Spa
2033 6th Avenue
Seattle, WA 98121
(206) 441-9900