From our friends at College Candy:
By Jill – University of Wisconsin
We all remember that scene in the first 'Sex and the City' movie. You know, the one where Miranda's hair down there is doing a bit more than just peeking out of her suit. But if I'm being honest, when I first saw the movie I didn't even pay attention to that extra "collection" south of the border. Not even a bit. For all I know, there could have been dread locks coming out of there because my eyes were glued to her amazing, fabulous, please-can-I-have-it-NOW Red swimsuit.
And every summer since then, I've spend many hours drooling all over Norma Kamali's swim collection. Retro-inspired with real women in mind, her bathing suits make me want to put on some red lipstick and start dancing around to my favorite '60s jams. Her prints are fun, her cuts clearly keep a woman's body in mind, and there is really nothing bad I can say about ANY of these amazing swimsuits. Whether it's her collection on eBay, department stores, in the magazines, every suit I see leaves me saying "I want. I want. I WANT."
The only flaw is the upwards of $100 price tag that come along with looking so retro cool.
Until now.
Walmart's Norma Kamali swim line is CHEAP – think $15-$30 for a swim suit – but still has the same look she's known for. Here are three of my favorite looks: a bikini, a tankini and a one piece. All equally fabulous and all currently in my closet just waiting for a warm weekend to wear 'em.
Tankini
I love the yellow detailing on this tankini, especially when paired with some yellow shades to compliment it and a big, floppy sun hat that keeps it so retro cool. The polka-dotted cover up mixed with the striped suit peeking through is a perfect mix of opposite prints still working together. I'm in love.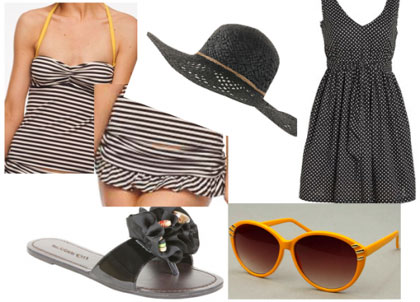 Product Information: Tankini Top: Walmart, $15; Tankini Bottom: Walmart, $15; Hat: Forever 21, $10.80; Sunglasses: Lulus, $9; Shoes: Madden Girl; $39.95; Cover-up Dress: Delias, $44.50
Bikini
This option is a bit more modern mixed with vintage. I love the solid top with the printed bottom. Throw on the bolder sandal, cute romper and funky shades and you're ready for any beach party.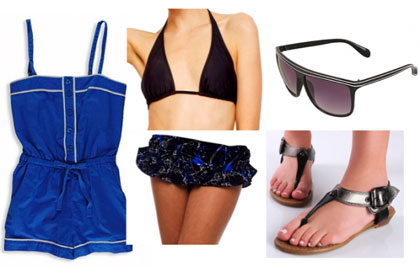 Product Information: Bikini Top: Walmart, $15; Bikini Bottom: Walmart, $15; Romper: Heritage 1981; $19.90; Sandals: Lulus, $20; Sunglasses: Forever 21, $5.80.
One-Piece
No matter your figure, this suit is flattering and fun. I love the graphic tote and the dark red shades to match!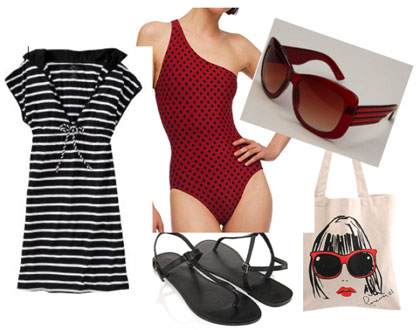 Product Information: Bathing Suit: Walmart, $15; Cover-up: Old Navy, $24.50; Sandals: Forever 21, $9.80; Sunglasses: Lulus, $9; Tote: Forever 21, $3.50.