Do you love to style outfits for yourself or your friends? Have you ever dreamed of becoming a stylist? Or are you already a stylist looking to expand your client list?
Style For Hire is looking for someone like you!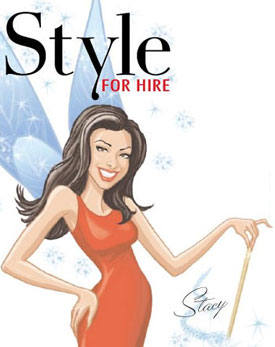 As a fan of TLC's What Not To Wear, I was excited to learn about celebrity stylist Stacy London's new venture: Style For Hire. Style for Hire connects stylists and clients nationwide to provide style and shopping services on a local level. In addition to providing styling services for individual clients, the company also assists stylists with ongoing professional development, including fashion consulting, styling photo shoots, retailer training, catalog styling, media appearances and fashion shows.
Formally from Seattle, but now based in Portland, stylist extraordinaire, Paula O'Neil has been named the new Northwest Regional Manager for Style for Hire. She is currently looking for a few West-coast stylists to attend a New York workshop with Stacy London.
The Style Workshop
The workshop will be held in New York City at the W Hotel Union Square on August 6th-7th, 2011. The hand-picked group of attendees will take part in discussions lead by Stacy London, featuring guest designer speakers and experts in tailoring. Through a series of seminars, challenges and feedback, stylists receive an intensive two-day training that focuses on a body-centric approach to styling. Attendees will receive a certificate of completion and logo for their website. Participants also have the opportunity to join Paula O'Neil and Stacy London as a Style for Hire stylist, or become a member of their Apprentice Program.
Who should attend?
Both new and veteran stylists are encouraged to attend the workshop. It is an excellent opportunity to network with others in the field, share best practices, and become a part of a network of stylists across the country. In order to be a candidate for the agency, you must attend the workshop.
What is covered at the Workshop?
Each day brings new learning opportunities. Day One covers The Science of Fit: body assessment and typing, silhouette-selection, color theory and articulating your choices to the client. Time is also spent on tailoring, fabric technology, and wardrobe economics. Day Two covers The Art of Style and applies the learnings from Day One using merchandise. Participants also participate in challenges as part of the interview process.
Sound interesting?
For more information on Style for Hire and the application process, please contact Paula O'Neil, Regional Manager. More information on the workshop can be found here.