Summer cocktail parties, ladies lunches, hot dates…these are just a few of the reasons to wear Katie May. Gorgeously cut, feminine styles in luxurious silks create a collection of go-to styles perfect for events both casual and dressy. We've featured the Katie May Kimmy Jean Dress before. The cobalt-blue silk beautifully compliments any skin tone. Check out the Kimmy Jean Dress along with a few more lovely pieces below.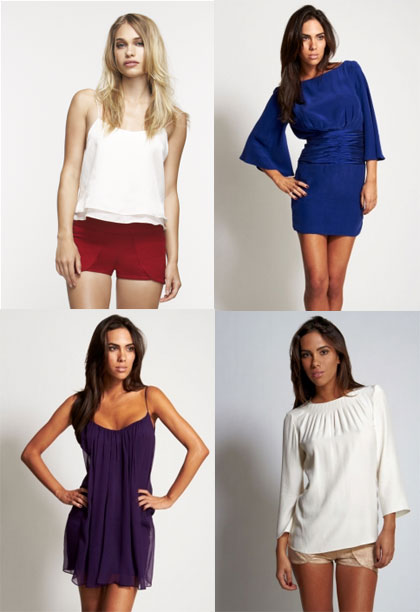 Pictured clockwise from top left:
Sofia Short ($125). So perfect for summer – wear with a camisole and blazer or long sleeved blouse and wedges.
Kimmy Jean Dress ($275). A favorite among stylistas, the Kimmy Jean dress combines sophisticated fabric with a feminine silhouette. The ruched waistline, flutter sleeves and deep v-back are all super flattering details.
Betty Blouse ($190). Love the high-neck and long sleeves. The key hole back provides a fun peek-a-boo feature. I want this blouse and the Sofia short now!
Heather Dress ($275). Worn belted or alone, with heels or flats, the Heather dress should be your go-to summer dress. The low-back is super sexy.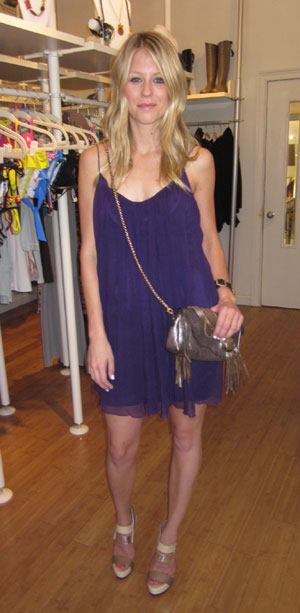 Designer Katie May Neu began designing in her 20s in Southern California. A favorite among celebrities, Katie May's Heather Dress in purple was recently seen on Zookeeper and Gossip Girl actress Katrina Begin. (Also pictured is a gorgeous Jen Mascali Kay Kay bag. Katie May clothing is designed and manufactured in Los Angeles.
To shop the collection and see more styles, visit KatieMay.net. Also, this Thursday, 7/14 they are having a trunk show – a definite must-shop event!