From our friends at College Candy: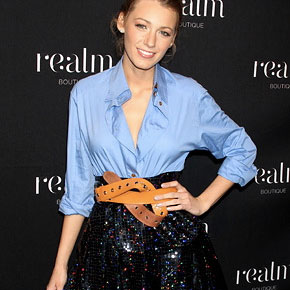 I have such a girl crush on Blake Lively and her sense of fashion it's borderline unhealthy. She possesses an incredibly eclectic style that is grounded in a love of all colors, combining different textures, and emphasizing her 10 feet long stems and fabulous cleavage. I personally applaud the fact that she even wears clothes, because if I had her body, I would probably never not be naked. I'm just saying.
Anyway, so New Year's Eve is over. The hangover has finally passed. You've been tagged in 100 photos, but only half of them are still associated with your name (there was no reason for the almost nip-slip or the midnight kiss with the random to be documented, right?). As you click through all the party photos, maybe you're still in awe of the outfit you've put together, and how well it photographs. Maybe you're wishing you could always be so sparkly. This week, I'd like to offer a resolution that would actually be fun to keep – incorporate more sequins into your wardrobe. Granted, my love of sequins is probably a little bit excessive, but seriously, why should sequins be reserved for New Year's Eve and that one other random cocktail party you go to each year?
See how to get Blake Lively's Look for Less here!