From our friends at College Candy: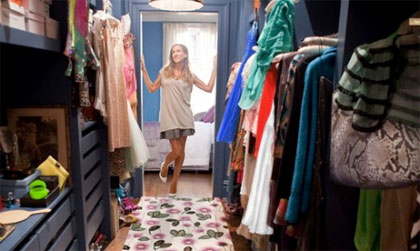 "Oh my God, I love her shoes!"
"Check out that bag!"
"That dress is amazing."
We ladies are constantly on the look out for the hottest fashion (at the lowest prices) and the coolest trends. Even the girl who just wears the same pair of jeans every day is looking for a comfortable pair of denim that make her ass look great. And that's why we're constantly providing a running commentary on the fashion we see on a daily basis. While some of it is certainly cringe-worthy, there's a lot of it that is ooo-ahh-I-want-it worthy. It's not uncommon to see strangers ask each other where someone bought something.
But what about those things you can't have and the people you can't ask? The Manolo Blahnik's you see Carrie Bradshaw wearing on almost every episode of Sex and the City or the Hermes bracelet on Kim Kardashian? Everyone wants it but few can have it…and that's why I have a never-ending list of celebrity closets I want to raid.
These women have the clothes that make me wish I could walk into Barney's, whip out a Fendi wallet, take out my limitless Amex Black card, and buy the entire store. Of course, this is currently impossible for me so instead I have to spend my days ogling the fashion magazines and fantasizing about shopping in my fave celebs walk-in closets.
View the entire gallery of covetable closets here!