From our friends at The Find: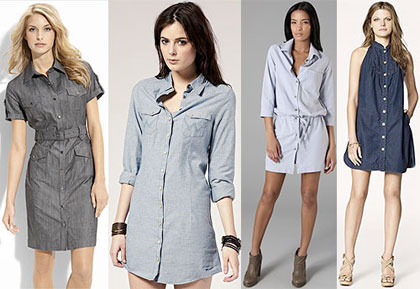 Now that the weather is starting to warm up (or at least, I'm hoping it will stay that way sometime soon!), daytime dresses are starting to become more and more of a wardrobe must-have. Shirt dresses are a great transition piece, not only as we creep from spring to summer, but also for their work-to-play dual functionality. Wear them over tights or leggings with your favorite pair of flats or boots while we wait for this spring breeze to burn off into summer, then eventually transition into showing off your bare legs (as long as the style isn't too short, of course!) with some platform wedges or summer booties. I'm loving chambray specifically because it's got that breezy spring feel that's casually cute, but still manages to look crisp and neat, in a stylish girl-next-door sort of way. Stock up on some layered jewelry and maybe a contrasting belt to add shape and you've got yourself a versatile spring-to-summer staple!
From left to right: Calvin Klein Chambray Shirtdress, Wrangler Chambray Shirt Dress, Boyfriend/Girlfriend Boyfriend Shirtdress, and Juicy Couture Denim Shirt Dress.