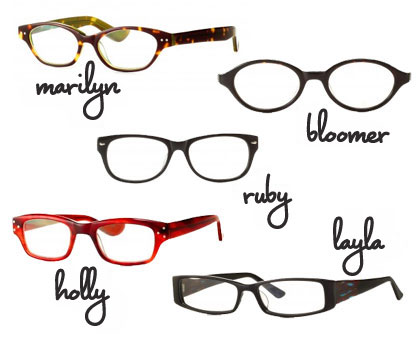 Eyewear trends are constantly changing, from 'modern and sleek' to 'geek chic'. Right now, pretty much anything goes. Bold frames in feminine styles are showing up everywhere from music festivals to awards shows. Thick tortoise shell frames and even bright colors add personality and interest while making a statement. Anyone can wear these modern feminine styles.
Pictured above: Bloomer, Marilyn, Layla, Holly, Ruby
Picking out a pair of new prescription eyeglasses can sometimes feel like a daunting task. Designer frames plus prescription lenses usually run a few hundred dollars. But Spex Club makes shopping for prescription glasses, readers and sunglasses a cinch while being economically reasonable. I am not sure how they do it, but they manage to offer an incredible assortment of on trend glasses at amazing prices – think $58 frames, readers and sunglasses and $88 prescription glasses. The best part? Every style is available in all three options. Here's one excuse to change your mind about your glasses. A lot.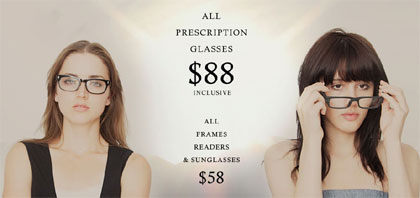 When Spexclub offered to send me a pair of glasses to review, I jumped at the chance. I've worn glasses for many years and always find it takes a lot of time to decide on a style. Like any online shopping, it's often hard to 'try on' a product before you buy it, but with Spex Vision, you can either virtually try frames on a model or upload your own photo. I uploaded a photo and tried on…well basically every pair. It was so fun! They have a huge selection of trendy styles from girly cat-eyes to nerdy square frames – all equally cool, it made choosing one style difficult!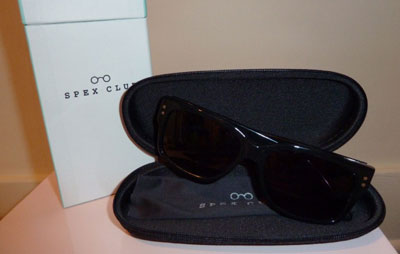 I have been feeling retro-inspired sunglasses lately, and ended up ordering the Jinx Sunglasses in a grey tint. They arrived in an adorable sturdy box and included a case and dust cloth. The glasses were made from high-quality materials. I had actually just purchased a pair of cheap sunglasses the same day that I received my Spex, and was able to compare the two. The Spex lenses were clear and the frames solid and comfortable. The style is great, but a tad too large for my face shape. Luckily Spex Club has a 30-day return/exchange policy, so I can easily swap them out for something else.
If you are looking for a change (or two) that will be easy on your wallet, be sure to check out Spexclub.com.