From our friends at College Candy: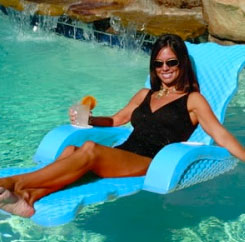 Summer season is almost upon us! While everyone else is going crazy at the gym, doing celery diets, and blowing their budget on summer dresses, we're just chilling out and getting ready to enjoy the sun. Who needs to be hungry and sweaty all the time when you can get ready for the season with our 5 simple summer secrets:
1. Brighten your smile. After countless cups of coffee during the week and maybe, possibly, one too many vodka cranberries last Saturday night, your teeth are in dire need of a boost. Due to the fact that I was cursed with braces in high school, I became increasingly self-aware of how my teeth look at all times. Yes, you can go ahead and laugh at me as I turn to my friend and ask her to do a "teeth check" with me. But here's the thing, a whiter smile gets you noticed. In the winter, your skin is paler and dry from the cold and lack of sunshine, so not having your whitest smile is not as noticeable. But in the summer, having white teeth against tanned skin can make all the difference.
My whitening mechanism of choice: Crest White Strips. They are cheap in comparison to professional whitening AND they work!
2. Tame your brows. And flashback to when I was 10 and being made fun of because I had a unibrow…awesome. Good thing my mom taught me well at a young age! Having too much eyebrow hair in between and on your brows gives off a messy look, especially for those of us with darker hair (ehhemm, me!). The best part about summer, besides not having class, is being able to hit the pool. I'll be the first to tell you the boys don't come running if you get out of the water and your eyebrow hair is slicked down to your face. Trust me. Having sculpted brows can make all the difference in how you look. Whether you're into thicker, thinner or high-arched eyebrows, it's time to get you to a waxing salon or save your money and give yourself some bangin' brows.
Find out the rest of the ways to update your summer look on a budget here!