From our friends at College Candy:
I LOVE the nautical "I'm on a boat" look. Almost as much as I love that song. There is just something about red, navy and white that screams summer chic. Give me an excuse to add yellow and/or gold as a compliment and I'm practically drooling. On a boat.
And even though this look is never really out of style, it's majorly in style this season. It's about as in as Justin Beiber, except substitute 13-year-old tweens for the fashion obsessed clamoring for a bit of this nautical love. Boat shoes for girls, cute navy and red jackets, hair bows, big beach totes – is it the 4th of July yet?!
The good news is you don't have to wait until mid-summer to sport this fireworks-suitable ensemble. And there is always an excuse and place to wear it. And I'm going to show you three ways. Yes, one shirt, 3 adorable looks. America really is beautiful my friends.
[A note on the shirt: The style of this shirt is very in, but the key is to look for one that comes in on the sides like this one so that you get the flowy look without looking like you're preggo with an eggo. And yeah, the shirt isn't cheap, but it's incredibly versatile, making it a very sound summer investment.]
With Jeans:
Keep the jeans super skinny to contrast the flowy top. Paired with this cute sweater jacket, gold earrings and super sexy heels, you're ready for a fun dinner. With Diddy. On his yacht. Or, you know, with the girls at the campus diner. Swap out the heels for flats and you're good for class, too!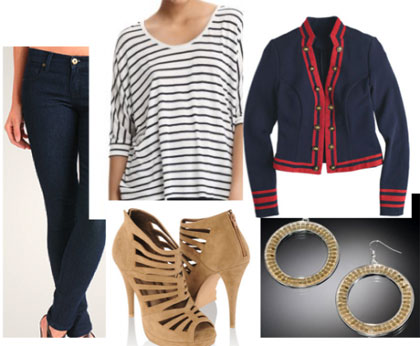 Top: Aqua by Bloomingdales, $58
Jacket: Delia's, $49.50
Fab Skinny Ankle Jeans: Forever 21, $9.80
Peep Toe Cage Heels: Forever 21, $24.80
Earrings: Express, $22.50
With a Skirt:
Tuck the shirt in to give it a more fitted stomach, but it will still be flowy in the sleeves, which is totally adorable. I love the bow in the hair for a sweet touch paired with the sexy red shoes and red suede bag. You can wear the bag cross body or remove the straps for a clutch!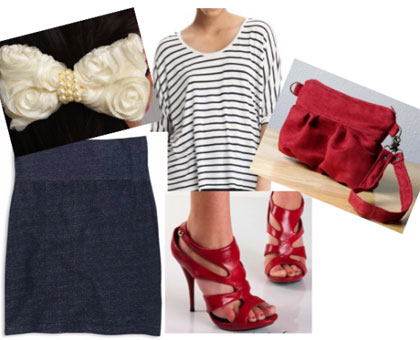 Top: Aqua by Bloomingdales, $58
Skirt: Forever 21, $10.90
Shoes: Lulus.com, $42
Hair Clip: Bow La Mode, $14
Clutch: Jenny N. Design on Etsy, $48
With Shorts:
I LOVE these sailor shorts. But if short-shorts (and Nair) aren't your thing, you can go for longer jean ones instead. The yellow boat shoes and sunglasses give the look a super bright, super fun summer pop. And the bangles – the more the merrier, people – just pull it all together.