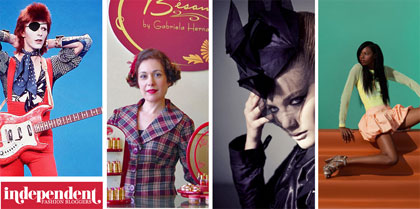 DIY NATION
Edited by Fashion Pulse Daily
It seems that across the board, there has been a resurgence in DIY, as we are very much living in a world of 'Do it Yourself' everything; ranging from creating or updating or garments' silhouettes and decorative details to showcasing our own versions of runway looks, virtually styling with tools like Polyvore, tackling self-photography, and of course self-publishing via our blog platforms. We reign supreme in the DIY world on a daily basis, and I only see this trend gaining momentum. The roundup of this week's links is definitely an indication, directly and indirectly, of the incredibly creative, innovative, persevering, motivated folks that are part of the new DIY frontier, and of course, IFB!
As expected, there was a fabulous round-up of links in the forum as well, all worthy of your eyeballs!
Links à la Mode: March 25th
Alex Loves – The Chanel Tattoo Cast
Alice in Stilettos – DIY Faux Fur Ankle Cuffs Inspired by Thakoon
Denim Debutante – How Would You Change the Denim Industry?
Despising Life is so Passé – Spring Cleaning: Detox your Space
Fashion Pulse Daily – The DYI Glue-On Pedicure: Reviewing Revlon's Perfect Pedicure Kit
Fasshonaburu – Vyque & Alyssa review the "Project Runway" video game and give you a chance to win your own copy!
For Those About to Shop – Designer NADA's Fashion future – how about a 3D film?
Haute World – My real life encounters with Balmain and an exclusive tour inside the label's only boutique in the world.
Idiosyncratic Style – The Personal Style of Fashion Designer, Breeyn McCarney
Independent Fashion Bloggers – Evolving Influence business, ethics, and the future of fashion blogging videos
Inny Vinny – See No Evil, Hear No Evil: Jezebel exposes photographer Terry Richardson
Lady Peach – The men that have shaped the fashion scene… 5 Male Style Icons
M.I.S.S. – Interview with Gabriela Hernandez, founder of Besame Cosmetics
Retro Chick – How Vanity Sizing is damaging your health
Shrimp Salad Circus – What does color do for your life?
Skinnypurse – Skinny Cargo Pants: Love Them or Hate Them?
Style Eyes – The Wang Effect – A discussion about the phenomenal popularity of all things Wang
Style Symmetry – Style Me Challenge! Wear an Outfit Styled By Someone Else
The Working Wardrobe – Show this rainy season who's boss!
The Coveted – Do you alter vintage?
Tweet – Dark and intricately sculptural clothing by a young, Hungarian designer named Dora Mojzes with an amazing talent
Ventures of Jenn – Vice interviewed Karl Lagerfeld; I broke it down