Sponsored Post: Win A Tempting Trip To Vegas, Plus Tons Of Beauty Goodies
This is a Sponsored Post written by me on behalf of KAO Brands. All opinions are 100% mine.

Sometimes it pays to give into temptation. The folks at Kao Brands® are giving away daily beauty baskets chock-full of tempting treats in their Temptation is Beautiful sweepstakes. Enter for a chance to win an indulgent gift basket full of beauty products from Jergens®, Curél®, Bioré®, Ban® and John Frieda®. Bonus: You can enter every day for even more chances to win!
Tempted yet? You will also be entered to win the grand prize of a tempting trip to Las Vegas for you and 3 of your friends. This swank package includes round trip airfare, transportation and accommodations, plus $1,500 in spending money. I already know exactly who I would take with me and am pretty sure we could put that spending money to good use!
Oh, and while I was over at Temptation is Beautiful, just for fun, I took their Temptress Temperature quiz. It looks like I fell somewhere between "hot, hot, hot" and "cool as a cucumber." Wonder what my husband would say about that!
Find out what kind of temptress you are and get an extra entry into the contest by taking the quiz. You'll also get extra entries for tweeting your quiz results and sharing it with your friends. Let me know what your temptress temperature is by leaving a comment below. I want to know!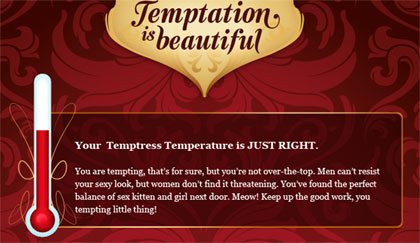 To enter the contest and for more info, click on over to Temptation is Beautiful. Contest open to US residents only. This is one contest you'll definitely be tempted to enter.