From our friends at College Candy:
By Anna R – Northeastern University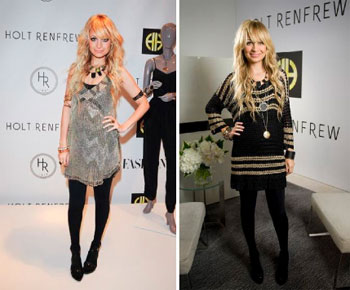 Shopping for your size and specific body shape can be extremely difficult, especially since fashion mags, advertisements, and even in-store displays usually push outfits that look great on girls who are relatively tall and skinny. For petite girls, it's hard find clothes that are both flattering and stylish, especially when you don't have the body of shorty celebs like Nicole Richie and Hayden Panettiere!
If you're petite and need a little help finding the perfect pieces to complement your pint-sized frame, there are a few things you gotta keep in mind.
Tops: Pick tops that hit mid-thigh. Anything shorter or longer will emphasize your lack of height. You also want to steer away from things that are too loose, or you risk losing your body in a sea of fabric. Anything that is draped, asymmetrical, or has long ruffles will elongate your torso and flatter a petite frame. Here are some chic picks from the petite section: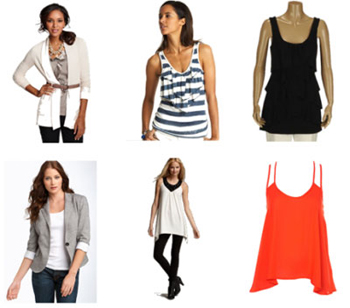 From top left to bottom right: Petite Open Cardigan with Chiffon Trim $68: Ann Taylor, Petite Ruffle Striped Tank $45: Banana Republic, Nygard Collection Petites Petal Scoopneck Tunic $69: Dillard's, Filtre Knit Boyfriend Blazer (Petite) $88: Nordstrom, Style&co. Petite Tunic, Sleeveless Two Tone $46: Macy's, Petite Skinny Strap Vest $50: Topshop.
Jeans: Petite girls need to wear petite pants. It's annoying, since so many of your favorite stores don't carry them, but it's just a fact of life. Hemming long pants often ruins them, since the cut of the pant wasn't meant for a petite frame. And cuffing is just not acceptable (in most cases).
If you're willing to splurge, Joe's Jeans Provocateur are the best in the business for short girls. They have a higher knee break and shorter inseam for an elongating effect. If you're on a budget, head to American Eagle Outfitters. If your local store doesn't carry short sizes, you can order them to the store without paying for shipping.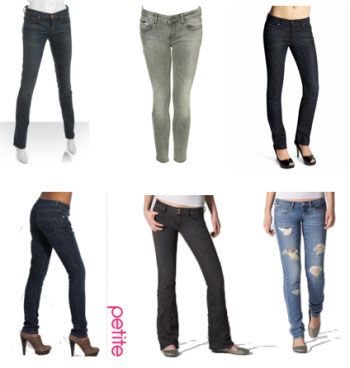 J brand 3 Star Wash "Petite Pencil Leg" Jeans $119: Bluefly, Petite Jamie Skinny Jeans $80: Topshop, Joe's Jeans Skinny Provocateur Petite Jeans $176: Piperlime, ASOS Petite Iggy Indigo Skinny Jeans $47: ASOS, Artist Jean $49: American Eagle, Skinny Jean $49: American Eagle.
Skirts and dresses: When dressing for your petite frame, the goal is always to make your body seem longer. Therefore you should go with extreme hemlines. Skirts and dresses that hit at the knee or just below will make your legs look stumpy (and your outfit frumpy). Obviously, when you're dressing for work or a formal setting, a mini won't do, but don't go longer than 2? above the knee to avoid the frump-effect. Here are some fab dresses that are on the shorter side.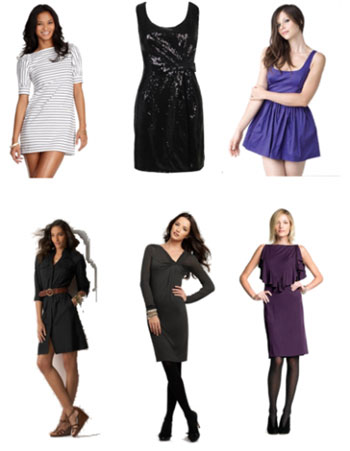 One Clothing Dress Nautical Striped Mini $39: Macy's, Sequined Mini Dress $29: Forever 21, Jack by BB Dakota Ollaberry Dress $58: Boutique To You, Petite Poplin Shirtdress $69: Ann Taylor LOFT, Petite Drape Collar Dress $98: Ann Taylor, Petite Cascading Ruffle Dress $39.99 (on sale from $132): Banana Republic.
Footwear: Opaque black tights + black heels = a petite girl's best friends. For everything else, go for heels and flats that are low cut. Avoid ankle boots that cut you off mid-calf, t-strap or Mary Jane shoes, and other strappy heels (unless, you're pairing them with same-color tights), because they'll make your legs look stumpy. For boots, go for knee-highs (over-the-knees are tough to pull off, and shorter boots aren't flattering). Here are some shoes, most of them on sale, that work.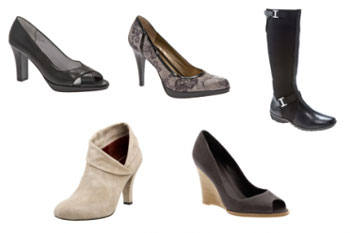 Lifestride Alicia Platform Pump $39.95: DSW, Bandolino Serece Platform Pump $44.95: DSW, Etienne Aigner Amber Leather and Stretch Riding Boot $74.95: DSW, Enzo Angiolini Women's Rachey Bootie $99.90: Endless.com, Helena Peep-Toe Wedge $98: Banana Republic.