From our friends at College Candy: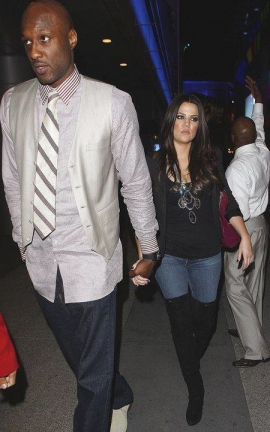 By Cristina – Michigan State University
Wanna dress like the stars? Who doesn't? But since most of us can barely afford dinner, let alone the newest Louboutin OTK boots, I'm gonna be your personal (Faux) Rachel Zoe and help you look like those Hollywood starlets without spending like them. Because there's nothing better than looking fabulous on a budget.
Khloe Kardashian is notorious for being the loud, outspoken baby sister of the Kardashian kclan. I guess you gotta have that personality when your one older sister just popped out a baby and the other is famous for a sex tape. But while her personality makes a bold statement, it's her fashion choices that speak the loudest.
When it comes to their closets, all three Kardashiennes lean toward what's trendy, expensive and high fashion. But Khloe has adopted a chic, edgy and perfectly personal spin on style sets her apart from the rest of the family and, I can't deny it, makes me drool a little. She has mastered the art of taking something basic to a whole new level. Girlfriend can take a boring black tee and make it fabulous.
Khloe also knows exactly how to dress for her body, which might be the sexiest thing of all. Although she towers over her two older sisters, she isn't afraid to accentuate her 5'10'' frame with heels or her favorite over-the-knee high-heeled boots. And she doesn't mind, because she knows she looks good.
She is often seen lookin' fly in her go-to outfit of a black shirt paired with skinny jeans. A bold statement piece of jewelry and black nail polish are always a must, and both have really become her signature accessories. Well, those and her new man, Lamar.
Now, I can't nab you an Odom to call your own, I can get you Khloe's chic look on a much friendlier "I don't have a reality show" budget.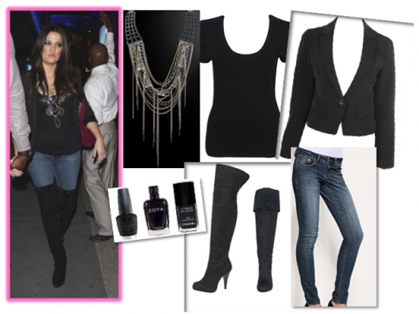 Product Info: Blazer – Forever 21, $29.80; Black scoop neck tee- Forever 21, $10.50; Layered chain necklace- Express, $59.50; Skinny jeans- Asos, $50.99; Over-the-knee suede boots- Alloy, $36.90; Black nail polish- OPI $7.50, Zoya $6, Chanel $30
If you want to make this outfit your own, go for a brighter polish, or layer on a bunch of your favorite necklaces instead of forking over the cash for a new one. The basic idea behind Khloe's style – slim fitting clothes that flatter your frame and make a statement – will remain intact, leaving you looking casual-chic and fashion-forward.