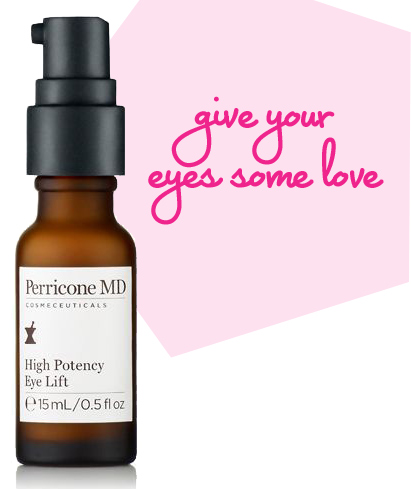 I received a bottle of High Potency Eye Lift from the wonderful people at Perricone and wanted to do a review on the product for our readers. I've been using it for a few weeks, and so far have been happy with the results. I've been a believer in using a good eye cream since I was in my teens. Your eyes are the first part of your face to show signs of aging, and it's important to keep the sensitive skin around the eye area firm and moisturized.
Perricone's High Potency Eye Lift claims it "lifts skin for a visibly transformed appearance while minimizing deep lines, wrinkles and bags under eyes." I found it to be a really lightweight lotion that absorbs quickly into the skin and does not feel greasy. I did not feel any sensation when applying the product, through the package insert does recommend you spot test an area for sensitivity. (My skin is usually rather sensitive). The product goes on smooth, and light. I usually apply it in the morning before putting on makeup, and at night before bed.
After using this product for several weeks, the skin around my eye area feels firmer, and I don't have bags (unless of course, after a horrible night's sleep!) I have not noticed a huge difference in the lines around my eyes (good old crows feet), however, the firming aspects of the lotion do help make lines less noticeable.
High Potency Eye Lift uses the anti-aging ingredients DMAE & Phospholipids, which help to tighten and repair damaged skin. And, with no nasty parabens, I feel good about putting this around my eyes every day.
About Dr Nicholas Perricone
High Potency Eye Lift is $95 and can be purchased here.
*This post contains affiliate links. See our disclosures for more info*