We just saw this great post by Brianna from College Candy on a fabulous DIY site: PS I Made This. Even total non-creatives like me can make their own jewely, gifts, accessories and more.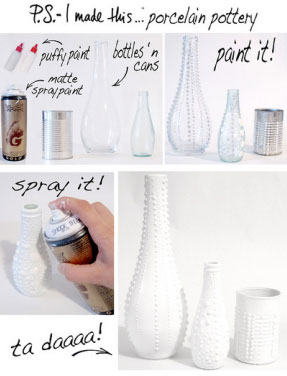 Below is the full article. Click through to College Candy for more info.
I do a lot of online procrastinating. Let's be honest, who doesn't? In class I stalk people from high school I haven't spoken to in years. When I should be studying, I scour iTunes for my next artist obsession. And when I'm writing an essay I am always simultaneously shopping my favorite stores.
In my travels across cyberspace I come upon a lot of new sites. From fashion blogs, to a new collection of funny videos, to online magazines with entertaining stories about college life.
But my most recent discovery has quickly developed into a must visit. It's psimadethis.com and it's amazing.
It's a do-it-yourself website, giving readers ideas for DIY projects and inspiration boards for coming up with your own ideas. It even has links to the best places to get materials for specific projects!
This doesn't seem at first to be anything ground breaking; there are a million DIY websites. So why am I obsessed with it?
1. Erica, the girl behind this site, is just awesome. She's creative, trendy, and cool. Ok, so I don't know if she's cool, but the stuff she's making is cool and I want to be her BFF.
2. These projects are super easy. You don't have to be a fashion design student or even really crafty to pull them off. And the instructions are specific and accompanied by pictures, so it's like having an art teacher right there guiding you so you don't mess up and end up with another paper weight (yeah, I'm scarred from 4th grade art class…).
3. The things you're making are incredibly chic. We're not talking birdhouses that will fall apart in your front yard or tacky purses made out of old jeans. These projects are all trendy, fashionable pieces that give you a cheap way to incorporate trends into your wardrobe. Faux fur vest, anyone?
4. It's an easy and affordable way to give all your friends and family something personal and unique for the holidays.
Plus, how good will it feel when you friend says, "Omg! I love your bracelet, where'd you get it?", and you can smile and say "Oh this? I made it. No big deal."
Thanks to this internet find, I've officially changed "Hangover Saturdays" to "Craft Saturdays."
I can't wait to make this.