Summer is the perfect time for adding pops of color to your wardrobe. We especially love the look of a bunch of bright hues together, whether it's a tie-dyed handbag, a multi-color scarf or color-blocked dress. Now is the time to add items to your wardrobe that layer on the color. Whether you go tie-dye, ikat, or painterly, brights always look amazing with neutrals, metallics, and black-and-white combos. So go wild with one part of your outfit and pair it with something subtle.
It's amazing how wearing bright colors can instantly lighten your mood. Here are some of our faves: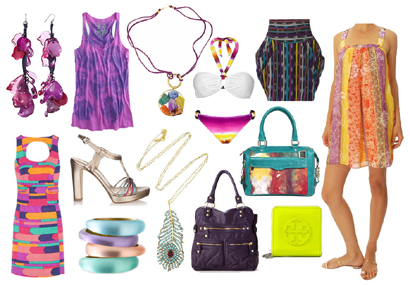 1) Holding Sway Earrings, $118. A grouping of varying purple hued resin petals give depth to these dangly earrings.
2) Kirra A-Line Layer Tank, $17.50. This look is so 80's beachy when paired with cut-off jean shorts.
3) Nugaard Designs Long Leather and Gem Cluster Necklace, $173. Multi-colored and multi-faceted stones give this piece a unique look.
4) Raisins Waterfall Heaven Swimsuit Top: $42, Bottom: $38. Have fun in the sun in this white and tie-dye bikini.
5) Rojas Drape Skirt in Indigenous $107. Yet another fabulous ikat print showing up on one of this seasons hottest skirt shapes.
6) Alice + Olivia Joni Print Tank Dress $368. A silky sundress that commands attention whether worn casual or dressed up.
7) Tibi Lollipop Shift Dress $340. A retro shape in mod brights reminds us why we love Tibi.
8) Botkier Grace Nappa Platform Shoe $445. Metallic gold platform sandals get interesting with colorful straps.
9) Alexis Bittar Organic Tapered Bangle Bracelets $120. A stack of colorful bangles compliments a neutral handbag with gold accents.
10) Kenneth Jay Lane Stone-Embellished Feather Pendant, $205. An organic beaded feather to wear long and embellish any white or neutral outfit.
11) Linea Pelle Dylan Zip Tote Handbag, $495. Buttery soft plum leather makes this a bag you will reach for over and over.
12) Rebecca Minkoff Morning After Tie-Dye Bag in Malibu Peacock, $475. The classic morning after bag shape, in a whimsical pattern.
13) Tory Burch Fluorescent Zip French Wallet, $155. Add a dash of neon yellow to your purse contents for instant mood-enhancing effects.