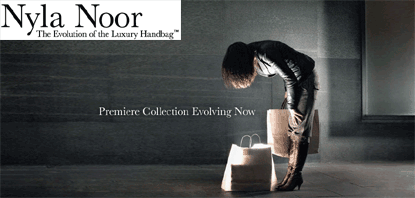 Sisters Saifra & Romaana Zia are the design team and founders of a brand new eco-chic handbag line called Nyla Noor. I recently caught up with the two of them while they were in Seattle, and had the privilege of getting a sneak peek at samples from their collection. Let me just say that these bags are fabulous! Made for the city girl on the go, each bag is thoughtfully designed, functional and super stylish.
Romaana & Saifra are no strangers to fashion and handbag trends. Growing up on 5th Ave NYC, their father used to design and distribute handbags to high end boutiques all around Manhattan and owned a luggage store for years after that. After each doing stints as analysts on Wall Street, the girls decided to jump into the design world and create a line of handbags themselves. Being former analysts, Romaana & Saifra took time to research each aspect of designing and manufacturing a handbag collection. Not wanting to sacrifice style, but also not loving the way leather bags are usually made, they chose to use eco-friendly leathers. Eco-leathers are tanned with vegetable dyes instead of harmful chemicals that end up in our oceans. Each piece is made in the USA and manufactured under eco-friendly and humane conditions. With a strong desire to "give back" they also support many non-profit organizations including Big Brother, Big Sisters.
Nine months of research, planning and design has resulted in a collection that makes these new designers seem like old hands. Inspired by their travels to Barcelona, each magnificently crafted bag has tons of external and internal pockets to hold everything a city girl needs for her day. Thoughtful details, such as handles that snap together to avoid on falling off the shoulder, no snag zippers, and organic cotton lining, set Nyla Noor bags apart from others. No detail has been overlooked. Plus, each Nyla Noor bag comes complete with its own purse hook – something special that no other handbag line offers. Below, the designers answer some questions about their company.
Skinnypurse: If you had to describe the Nyla Noor collection in 3 words, what would they be?
Nyla Noor: Distinctive designs, Eco-luxury, Modern
SKP: What type of woman will carry a Nyla Noor handbag?
NN: Our handbags are designed for the contemporary woman who is confidently moving in the direction of her dreams.
SKP: What is your favorite handbag in your line?
NN: The Port Vell Satchel
SKP: What materials do you use to create your handbags?
NN: We use lux vegetable tanned leathers, signature organic linings and customized hardware.
SKP: Where will Nyla Noor handbags be sold?
NN: Select Boutiques, Fine retailers and online at www.nylanoor.com.
SKP: Growing up, who were your fashion inspirations?
NN: Our Mom because she has always had a love of quality statement pieces, particularly accessories. Surprisingly enough, our father because he would spend time traveling overseas for business and always return with the most beautiful and distinctive pieces for our mom. Whether it be clothing, shoes, jewelry or handbags, our father has always had a refined eye for style, and our mom always knows how to wear them.
SKP: How do you come up with your designs? Is it collaborative or do either of you take on a specific piece?
NN: It's mostly collaborative. We come up with concepts and share them, tweaking and refining the concepts until we yield a final product.
SKP: What are some of the handbag trends that we are going to see in Fall and Winter?
NN: Rocker chic, studs, buckles, hardware, chains, zippers and exotics.
SKP: What other accessories will Nyla Noor be launching in the future?
NN: Small accessories such as wallets, key fobs, coin purses, cosmetics cases and belts.
SKP: Which celebrity would you love to carry a Nyla Noor bag?
NN: Cameron Diaz, Katherine Heigl, Sara Jessica Parker, Anne Hathaway.
Stay Tuned! We will be showing you a first look at the handbags in the Nyla Noor launch collection.