From our friends at The Find: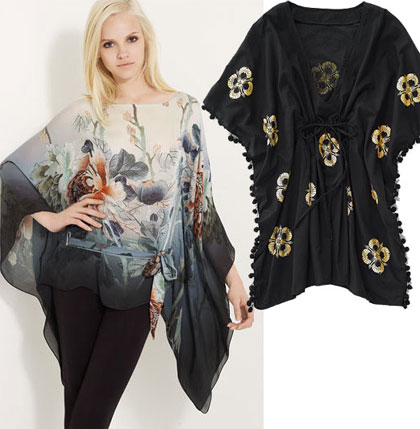 Perfect for days that are swelteringly hot, colorful caftans can easily make their debut in your wardrobe as the go-to comfy choice whether you're traveling by boat or plane to exotic ventures for a last minute vacation or simply enjoying a "stay-cation," lounging around the house and sipping homemade margaritas. Yah, I know. "Mumus" come to mind, but these three picks below will help you think of anything but.
Sexy in Leopard: Walk on the wild side with INC's Kimono Sleeve Printed Mesh Caftan. Stiletto's bring this caftan to a whole new level of not just sexy but "sexxaaayyy." For a more casual event top it over jeans and wedges.
Luxurious and Lovely: Roberto Cavalli's Belted Caftan is elegantly amazing and undeniably luxurious. With it's beautiful botanical design and belt, silk fabric, and incandescent colors, it's sure to be a one of the most treasured additions to any wardrobe.
Sophisticated and Sensual: Victoria's Secret has the hook up with the perfect caftan for water or window shopping. The Print Cotton Caftan in black with gold fabric detailing is the go-to caftan for everyday wear. You can't ever go wrong with its neutral color and funky silhouette. Match it with black tights for the mall or a pair of daisy dukes for beachside chic.
– Mira Torres
To celebrate the launch of CATALOGUE by TheFind for Facebook we are giving away an Apple iPad 2! Enter here. CATALOGUE by TheFind includes more-than 120 different catalogs from NET-A-PORTER, J.Crew, Anthropologie, Crate and Barrel, Williams Sonoma, and Nordstrom. You'll enjoy browsing as you would paper catalogs, but within the Facebook experience!