The T-Shirt is a closet staple. One of those items that you've got hundreds of. Like a security blanket, the more you wash them, the softer they get. And remember when they were inexpensive? 😉
Brands like C&C California, Michael Stars and James Perse revolutionized the T-Shirt, and brought them back to life. Just when you thought you'd seen all that can be done with a plain old tee, enter the Lace Back trend.
A lace back tee shirt adds an element of surprise to a basic top, and can take your outfit from blah to wow in seconds. Wear under a cute jacket and reveal a new outfit detail when the jacket is removed. A lace back dresses up a plain shirt in a subtle yet effective way. No matter how you wear it, a dressed up t-shirt is super chic right now.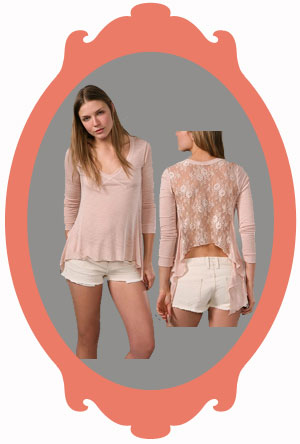 Blue Life Lace Wing Back Top, $93. Not only does this top have a surprise pop of girly lace, it's an amazing color. Not too pinky or peach, looks fantastic when paired with white or grey.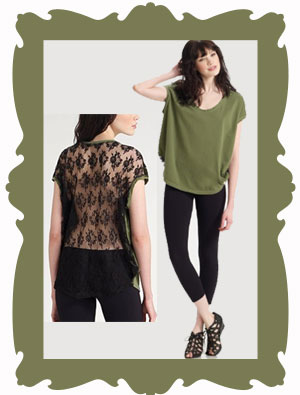 Gypsy Lace-Back Top, $65. An army green slub tee with a sexy lace back? We are in love with this glam rock goddess top.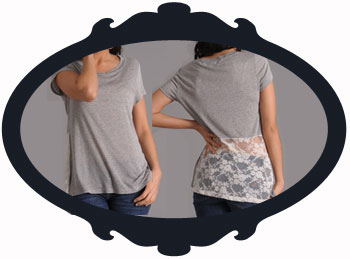 Vintage Havana S/S Scoop Lace Back Tee, $60. Chances are you've got a bunch of grey tees in your closet. Spice one up a bit with this Vintage Havana lace-back t-shirt. The white lace gives a casual staple a bit of femininity.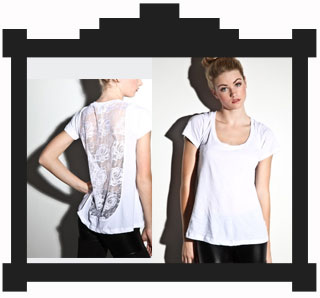 LnA Lace Back Tee, $84. A panel of white lace gives a stark t-shirt some edge. Love how they've paired it with leather pants, but you could really wear with any jeans.
DIY Idea: Now, we are not super crafty, but if you are, this would be an relatively simple DIY project. Take an old t-shirt, cut out a section of the back, and sew in a panel of pretty lace. Voila! A new and improved tee!