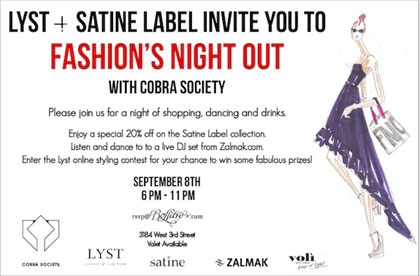 On September 8th, cities nationwide will be hosting their own Fashion's Night Out events in an effort to encourage shopping and celebrate the fashion and retail industry. Here's what's happeneing in LA:
Join Satine Boutique and Lyst for Fashion's Night Out in Los Angeles
Date/Time: September 8, 2011 – 6 to 11 PM Where: Satine Boutique, 3184 w 3rd street<
What: Los Angeles's famed style mecca Satine Boutique teams up with a digital style mecca, fashion discovery website Lyst.com, for Fashion's Night Out. Guests will enjoy cocktails, hors d'oeuvres, music and 20% off Satine's Private Label and a chance to showcase their style skills on Lyst for a chance to win some seriously chic prizes from Satine and Cobra Society.
RSVP: rsvp@bolllare.com