From our friends at The Find: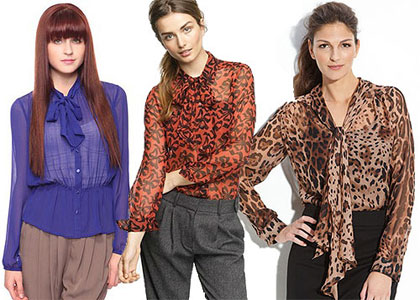 If there's one thing we can take away from Ally McBeal (aside from recurring nightmares about creepy dancing babies), it's that there's definitely a line that needs to be respected when it comes to your workwear wardrobe (and that line lives barely above your knee)! But just because there's a required level of appropriateness that should be observed (though I guess it depends on where you work!), it doesn't mean that you shouldn't look and feel sexy. This season's silky-sheer tie-neck blouses manage to be conservative and chic with their high neckline, tie detail, and ample coverage, yet sexy and just slightly suggestive at the same time with their barely-there sheerness. Talk about leaving something to the imagination! Pair with a camisole underneath to preserve your classiness during work hours, and then swap with a lacy bralette or a sequin tank for a little happy hour sultriness!
Left to right: Forever 21 Neck Tie Blouse, J. Crew Secretary Ribbon Blouse, and Casual Freedom Tie Neck Sheer Print Blouse.
– Alex Gambardella