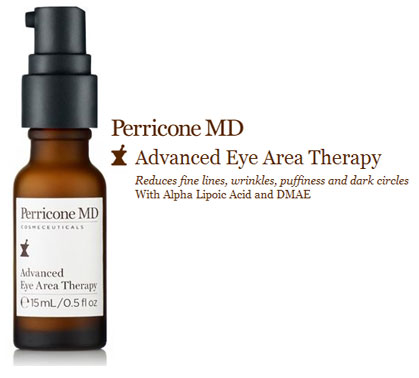 Surely you know the importance of a good eye-cream. Even if you are in your 20's, daily use of an age-preventing eye-cream is a good habit to get into. Here at Skinnypurse, we have our favorites and are always in search of a new ones to try.
Our friends at NV Perricone are giving away a free bottle of their bestselling Advanced Eye Area Therapy, which retails for $95.
Perricone's Advanced Eye Area Therapy benefits skin by reducing the appearance of fine lines, wrinkles, puffiness and dark circles. It contains Alpha Lipoic Acid and DMAE, two ingredients that sound complex, but what's important is that they help fight signs of aging and minimize lines. So, you know those crows feet you might get when you smile, this helps with that. The formula is paraben-free and contains Vitamin C Ester, which helps skin keep its firmness.
To enter the contest: Simply leave a comment below and tell us why you would like this product as well as what types of products you've used that did not work. Please be sure to leave your email address, as that is the only way we can contact you to tell you you've won!
One lucky reader will be selected via Random.org and win the sample of Advanced Eye Area Therapy. Please note: This giveaway will run until Sunday, December 6th and is open to US residents only.
This giveaway is also featured on Free!Grechen