In this week's holiday party outfit, we show you how to dress around an a-line mini-skirt. With a feminine silhouette and flattering fit, the fullness of an a-line mini works well balanced with a fitted top and killer heels. You might even have a skirt or two in your closet from summer that can be paired with tights for a festive holiday look. Here, we've dressed up a pretty black and burgundy skirt from Forever21.
1) Camisole: Silk Camisole, $48
2) Necklace: Grey Pearl Gumdrop and Pavé Necklace, $50
3) Jacket: Andisue Jacket by BB Dakota, $80
4) Clutch: Jessica McClintock Center Rose Flap Clutch, $42
5) A-Line Skirt: Windowpane Sheen Skirt, $19.80
6) Shoes: Miu Miu Strappy Suede Sandals, $581.10
7) Ring: Statement Ring, $48.
Here are some more a-line mini-skirts that could be dressed up for a holiday party: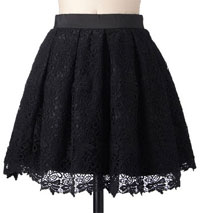 Curtsy Skirt in Cinderella, $84.99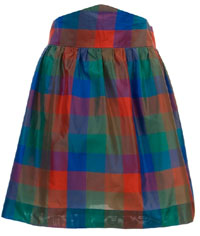 Beyond the Valley Silk Checkerboard Skirt, $234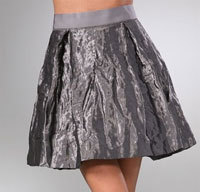 Nili Lotan Metallic Miniskirt, $532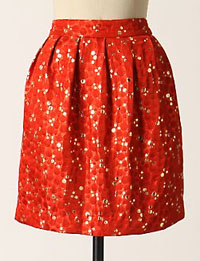 Crimson Bubbles Skirt, $188