This giveaway has ended. Thanks for your submissions!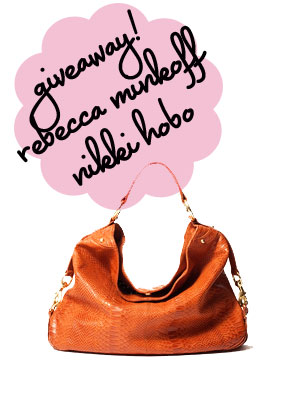 In need of a little arm candy? Then you'll love our latest giveaway!
Skinnypurse has teamed up with Clutch Handbag Boutique to give away a gorgeous Rebecca Minkoff Nikki Hobo bag in brown embossed alligator. Valued at $595.00, the Nikki is a classic Minkoff shape, done in luxurious textured alligator print leather. Super slouchy, the Nikki has plenty of room for all your essentials. Fully lined in exclusive black and white printed fabric and finished in custom gold hardware.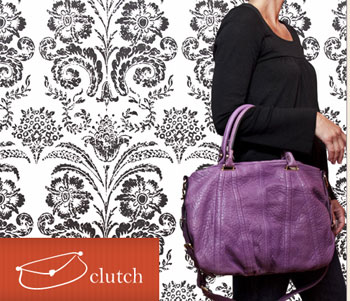 Clutch is a local Seattle boutique, owned by handbag enthusiasts (and sisters-in-law) Kimberly and Carrie Arrington. The boutique, which started as an idea over dinner, soon evolved into an impressively-stocked handbag haven, featuring handbags from designers like Botkier, Foley + Corinna, Kooba, Rebecca Minkoff, Hayden-Harnett and Linea Pelle. Fortunately, you do not have to be a Seattle resident to shop at Clutch. Their online store houses a well-edited selection of the season's hottest handbags as well as picks from harder to find designers like Belen Echandia. Emerging brands like Oliveve are represented as well.
Be sure to check out the amazing selection of bags available at Clutch. Save 20% on your purchases at with code: "Skinnypurse" at checkout! Visit the Clutch Facebook page too!
****To enter to win the fab Rebecca Minkoff Nikki Hobo, please complete the following steps:****
1) Leave a comment here telling us what handbag is currently on your wishlist and why
2) Follow both @Skinnypurse and @ClutchSeattle on Twitter (Leave a comment including your Twitter name)
Each of these counts as extra entries:
1) Tweet the phrase "@Skinnypurse #Giveaway! Enter to win a Rebecca Minkoff Nikki Hobo from @ClutchSeattle http://bit.ly/9sq3qM (Please RT)" (Leave a comment here with link to tweet. Note: you just need to tweet this one time, one day only)
2) Subscribe to the Skinnypurse XML Feed. (Be sure to leave a comment back here letting us know you subscribed)
One lucky reader will be selected via Random.org and win a Rebecca Minkoff Alligator Nikki Hobo
Please note: This giveaway runs from Sunday, October 10, 2010 until Sunday, October 24th, 2010. Open to US residents only. Good luck!
This giveaway is also featured on Free!Grechen