From our friends at The Find: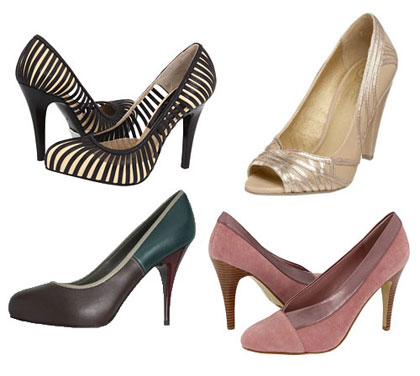 As scary as the idea sounds, it may be time to toss your comfort blanket to the waste pile. Yes, shoe fiends, your basic nude heels and classic black pumps are due for a much-needed rest as we make way for two-tone pumps! Color-blocking was one of last year's hottest trends in dresses, tops, and skirts, and now the multi-toned look is taking over shoes for a season of fall footwear that refuses to go back to basics! Whether incorporating contrasting or coordinating shades and textures, the look is fashion-forward but not intimidating for newbie shoe collectors (not like there's anything wrong with a pair of shoes that steals the show)!
Seychelles' Wild Card Pump in Vacchetta is a sexy, updated take on the ever-popular nude pump with its metallic gold details and chunkier heel. For a similar amped-up take on your go-to basics, these Michael Kors caged pumps give a stripey zebra look with its contrasting nude and black panels. On the other hand, these colorblocked Vicini platform pumps are technically four-tone, but the military-inspired palette is neutral without being boring! And of course, if you're not afraid of a pop of color, these suede and leather Nine West Sweptaway pumps look like they've been stolen from Elle Woods' wardrobe… in the cutest way possible!
– Alex Gambardella
Save on Two-tone pumps at Bloomingdale's from TheFind's coupon site