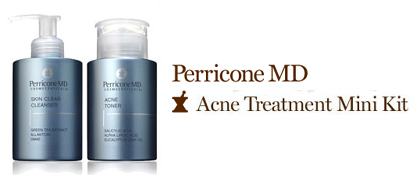 It's never fun when a pesky pimple ruins your whole look. If acne is still getting the best of you, you may want to check out Perricone MD's Best Treatment for Adult Acne.
We have the opportunity to giveaway Perricone's Acne Trial Kit to two lucky Skinnypurse readers! Get ready to say goodbye to acne-prone skin!
Perricone's Acne Trial Kit helps treat and prevent breakouts while providing anti-aging benefits to your skin. The kit includes one bottle of the Skin Clear Acne Treatment (.33oz), which gently cleans and calms stressed skin. It contains DMAE which has anti-aging properties. Also included is a bottle of the Skin Clear Acne Toner (1.25oz) which tones skin. Salicylic Acid, Alpha Lipoic Acid, and Eucalyptus Leaf Oil help exfoliate skin and unclog pores without drying it out. The Acne Trial Kit retails for $40.
How to enter the contest
Simply leave a comment below and tell us why you would like the Acne Trial Kit, and let us know what other types of products you've used that did not work. Please be sure to leave your email address, as that is the only way we can contact you to tell you you've won!
Each of these counts as extra entries in the contest:
1) Follow @Skinnypurse on Twitter
2) Tweet this post by clicking on the green Tweet Button below
3) Tweet the phrase "I want to win Perricone products from @skinnypurse http://tinyurl.com/ylr3t6a up to 6 times/day, for one entry per tweet. (Be sure to leave a comment back here letting us know you tweeted)
4) Link to this post on your blog or web site using this link. Be sure to leave a comment back here with the link to your post)
Two lucky readers will be selected via Random.org and win the Acne Trial Kit. Please note: This giveaway will run until Thursday, February 11th and is open to US residents only.
This giveaway is also featured on Free!Grechen
This giveaway is now closed. Thanks for playing!