The buzz about Fashion Week is abound as designer collections become released. The week kicked off with tragic news about the loss of style icon, Alexander McQueen. His creations were amazing and he will truly be missed.
New York Fashion week brings a gathering of uber-chic fashionistas; from designers to models, to magazine press and bloggers. The tents at Bryant Park are the place to see and be seen.
Here are some of standouts from the week so far:
Friday, 2.12.10
Christian Siriano: Christian Siriano's Fall 2010 RTW collection was a little less over-the-top than his previous collections. While channeling his vision of "glamour" as told to reporters backstage, Christian's looks were a little bit of everything: Leather, sheer fabrics, satins and knits. While we didn't love this collection, we think Christian Siriano's strong suit is in his evening dresses, and will continue to watch what he does next.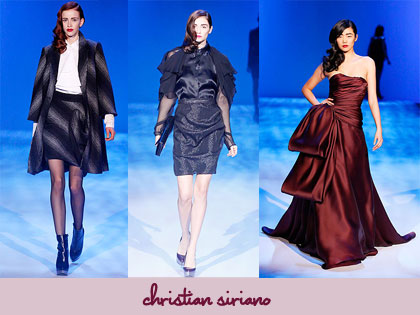 Saturday, 2.13.10
Adam: Adam Lippes created a fashion favorite with his short sleeved sequin sweater in Fall 2009, and we are always excited to see what he'll do next. This collection brought cozy knits paired with short skirts, sequin tops mixed with prints and haphazardly pulled together looks cinched with smart belts. We adored the military jacket lined in fur and the slouchy ankle boots. Overall this collection was one of our faves.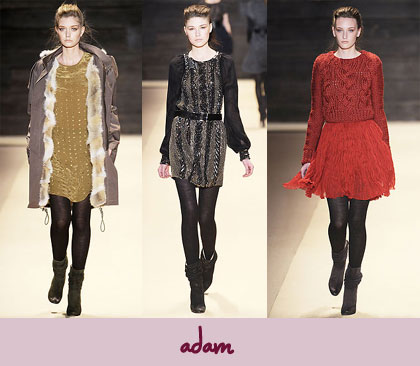 Alexander Wang: Thigh high leg warmers, cutouts and suiting were just some of the details in Alexander Wang's Fall 2010 collection. Clothes had a slightly sinister and gothic appeal. Hints of black lace added a dark femininity. Some of the velvet and chenille leg warmers looked cozy, but the rest of the outfits had cutouts that left us feeling chilled.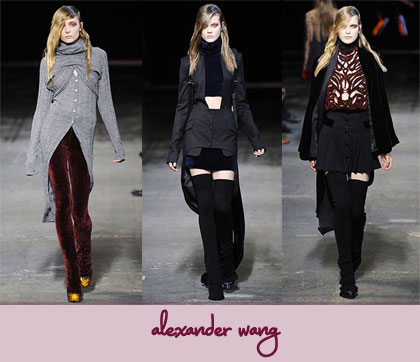 Sunday, 2.14.10
Lela Rose: Streamlined and modern the Lela Rose Fall 2010 collection was one of our favorites. Patterns and texture were a common theme and no detail was overlooked. Muted tones of blues, plums and greens coupled well with rich greys and blacks. Designs were wearable and attainable – items we'd love in our closet.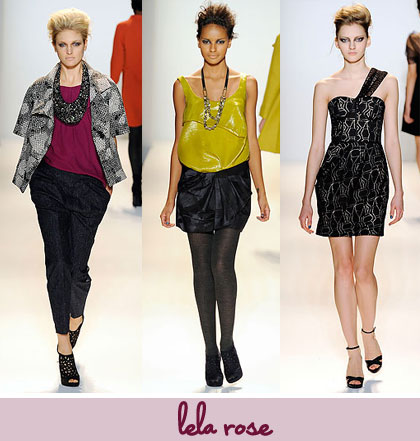 Monday, 2.15.10
Zac Posen: A skinnypurse favorite – Zac Posen seems to do no wrong when it comes to fashion. His Fall 2010 collection was a mix of thigh-skimming flirty skirts and dresses, detailed tailoring like precise folds and draping. The color palette centered around earth tones, with pops of bright red complimenting the collection. For outerwear, furs were luxurious and vibrant. We loved the interesting makeup too – dark eyes and strategically placed eye-liner.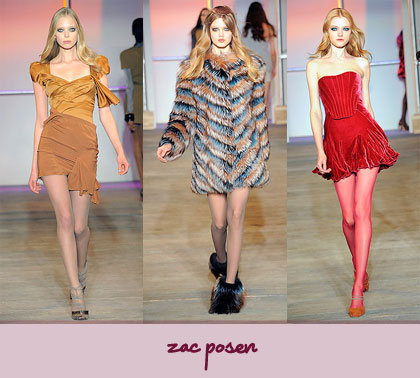 Monique Lhuillier: A woman who has come a long way from wedding dresses, Monique Lhuillier sure knows how to create evening looks that wow. Tight buns, lace tights, red, gold and black were just some of the details of this collection. Some of our favorite looks were the beaded cocktail dresses.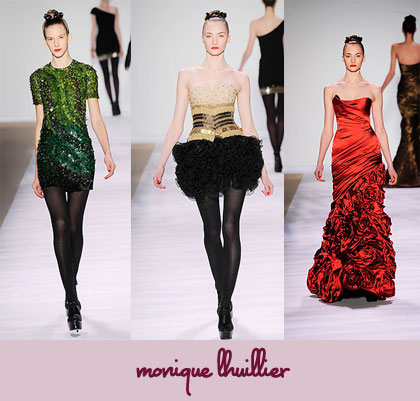 *Images from Style.com*