ideeli is giving away the opportunity to say goodbye to Bryant Park in style, with a farewell party on February 18th. Join ideeli and enter the giveaway here.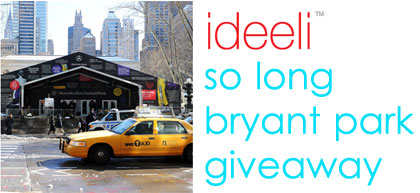 More details from ideeli:
So Long Bryant Park:
Featuring invitations to attend an exclusive Mercedes-Benz Fashion Week party
After 17 years of showcasing fashion's biggest moments, the Tents at Bryant Park will be saying au revoir this season, as Mercedes-Benz Fashion Week moves to Lincoln Center in the fall. A farewell party is commemorating the momentous occasion, and two lucky ideeli members will score invitations, allowing you and a guest to enjoy all the fabulous festivities on February 18th. Get ready to knock elbows with fashion greats, meet blossoming talent and be the ultimate fashion insider.