From our friends at The Find: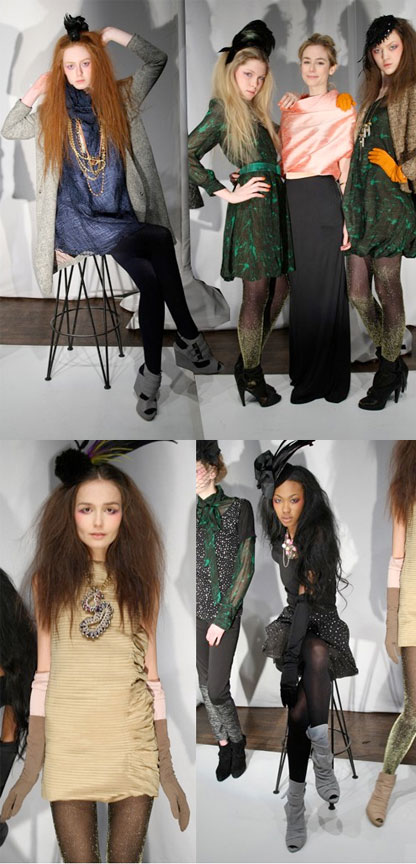 This past Wednesday I had the pleasure of attending designer Abigail Lorick's New York Fashion Week presentation for Fall 2010. You may have seen past Lorick collections which gained notoriety as Eleanor Waldorf's label on Gossip Girl.
Housed in downstairs in the Union Ballroom, the descent down the stairs led to a dimly lit room where editors and press gathered to view Lorick's confections inspired by angels in cocoons. The key to this collection is layering, layering and more layering. The pairing of lighter sheer fabrics layered underneath heavier fabrics (raw silk) gave a youthful feel to the dresses and separates making up the collection. The palette was definitely neutral, but still dramatic – taupes, black, and gold metallics accented with flashes of gray and green played throughout.
Overall the collection was very well executed with a youthful, creative and uptown energy. The styling consisted of eclectic accessories which added an additional layer of interest. Think modern day flapper chic – long brightly colored gloves in orange, green, and black. Ginormous feather headpieces, bows and hats graced the model's wild untamed hair. Ankle booties and wedge platform sandals were worn over glittery metallic semi-sheer tights, and black opaque tights giving gravity to the whimsical designs. Statement necklaces appeared as beaded collars and layered strands of baubles, pearls and gold chains. Embellishment was added with accessories to the otherwise very clean cut silhouettes of the clothing. Hemlines were thigh high and exuded the charming youthful appeal.
Photos by Robert Mitra for WWD
Save on your purchases at Bloomingdales from TheFind.com's coupon site