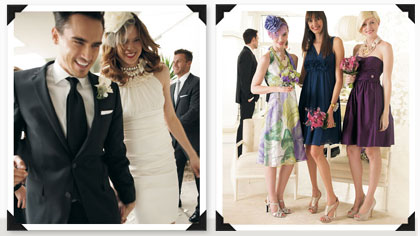 When I got married, about 5 years ago, one of the hardest tasks was picking out a bridesmaid dress for 7 of my wonderful, yet very different bridesmaids. They each not only varied by body type, but their personalities were very different as well. Take my sister-in-law, a film director – she's tall, stylish and an L.A. hipster whom I just couldn't picture in pastel charmeuse. Or take my best friend, equally as stylish, but with a totally different fashion aesthetic. Somehow, I couldn't see her rocking lemon yellow chiffon. (Ok so I didn't want that either, but you get what I mean).
Truthfully, choosing a single dress for these women felt like an impossible task. How would I choose one that fit all of their styles and body types? But what was the alternative? I've always admired brides who give their bridesmaids free reign to choose a gown in a specific color, fabric or color range. But for my formal affair, I wanted consistency, which meant a single color and style.
Well, my own bridesmaid dress experience didn't turn out perfectly. It wasn't horrible; I ended up with a strapless, cocktail length dress in champagne satin, and I must say the girls looked amazing. But the process was frustrating. I found that anything that was stylish and in the color I wanted ended up being a few hundred dollars – fine if you are buying for yourself, but for a dress you'll be wearing to someone's wedding and wearing once, it seems like too much. Also, bridal boutiques had strict return policies, yet you were supposed to choose a color based on a tiny swatch of fabric. Not to mention, your maids would have to purchase a dress four sizes too big, only to pay extra for alterations.
If I could do it all over again, I would be thrilled to know that Nordstrom now does weddings. Sure, they had bridesmaid dresses 5 years ago, but they did not have quite the selection they do now, nor the special services tailored to helping brides with their big day. Nordstrom carries a wide variety of bridesmaid dresses from brands like Calvin Klein, Donna Rico, Adrianna Papell, Maggy London and more. We found three great ones for under $175 each, leaving plenty of room in your friend's budget for shoes and accessories.
1) Calvin Klein Satin Dress, $148
2) Adrianna Papell Sleeveless Cotton Dress, $118
3) Donna Ricco Strapless Taffeta Bubble Dress, $168
In addition to a fabulous selection of affordable and stylish bridesmaid dresses, bridal gowns, gowns for mother-of-the bride, shoes, lingerie and accessories, they also offer the following services:
Personal Wedding Stylists
Certified Bra Fit Specialists
On-Site Tailors
Beauty Experts
Free Shipping when you place your order with a Wedding Stylist
So, if you are in search of the perfect bridesmaid dress, definitely stop by the Nordstrom Wedding Shop!