Looking for the perfect gift for that special Grad in your life? Say congrats to your grad with a charming piece of jewelry. Whether her style is laid back casual or glam girl, jewelry is a great choice for a personal gift. Here are a few pieces that would make any recent grad smile: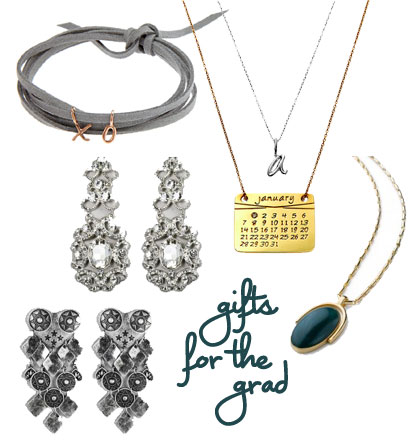 Pictured above clockwise from top left:
dalla nonna
dalla nonna Little Letter Bracelet (from $98). Customize the bracelet with your choice of suede and metal letters. Each letter is handmade. You can do initials or little phrases. So pretty!
Little Letter Necklace (from $110). Order a single initial or stack on a few letters to create an elegant, personalized piece.
Signature Calendar Necklace (from $150). You choose the metal, finish, stone, month, and day! A pretty little piece that serves as a reminder of a very special date.
JewelMint
We've posted about JewelMint before – a fabulous jewelry club that let's you score designer jewelry for only $29.99 per piece! Well, it's the perfect place to pick up gifts too! Romantic Pine Pendant: Ladylike and sophisticated, this pendant is a keepsake piece that will remain a classic for all time.
Eros Earrings: A little bit boho chic in zinc and silver plated metals, they hang 3 1/4″ long.
Versailles Earrings: Totally glamorous, perfect for the girl who likes to dress up.