Last night I attended Haute Summer Night – Fashion on the Boardwalk in sodo Seattle, with my lovely friend Kirsty from Lucia K Jewelry.
The warehouse space was converted into an indoor beach boardwalk, complete with hot dog stands, games and sand! The Coney Island-esque atmosphere was playful and fun. And while it was raining outside, that didn't stop guests from wearing beach worthy rompers and sandals – getting right into the theme.
After mingling, light bites and cocktails, the show begun, focusing heavily on women's and men's swim suits, beachwear and lingerie. The first set featured adorable dresses for women and girls from Ana Louie.
Next up: standout swim suits by Heidi Fish, in an array of styles, from ruched velvet tankinis to tribal-inspired beaded bikinis, and everything in-between. Some of my favorites included details like criss-cross ties and mesh overlays. For men, shorts lengths got shorter and cuts were slimmer, and the palette of periwinkle and chambray blue work to bring out any tan.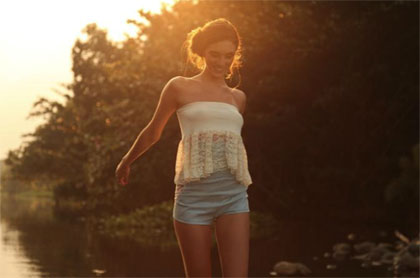 The next set featured retro-inspired rompers, body suits, pants and tops by Morgan Carson for Rene Ropas. Made from recycled and refashioned fabrics, the designs were a fresh take on vintage style. I loved the high-waisted pants and shorts and pinafore-style tops. (Apologies for the very blurry shots from the show – I used my iPhone – rookie move. (Thanks @cobraxcobrax for understanding) ;). Visit the Rene Ropas showroom in the Belltown neighborhood of Seattle to try on vintage and new pieces.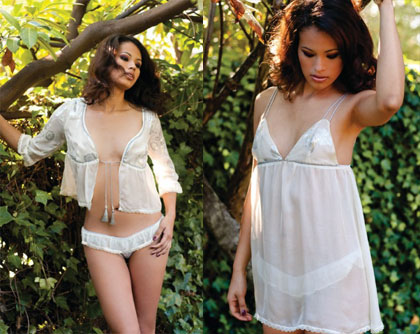 Delicate, vintage-inspired lingerie from Suite No. 237 by Sally Kathren wrapped up the show. Silky bras, undies and camisoles ranged in colors from black and white to bold brights. A personal favorite from this collection were the bed jackets! I posted about bed jackets awhile back – total fan! There was a beautiful sheer black bed jacket and a white one with metallic thread – both would look amazing as eveningwear. In fact, the Suite No. 237 collection is designed to be worn both as lingerie under clothes or even as evening wear/outerwear.
After the show, the lights were turned down and the beats turned up. Overall, it was a very fun evening! For more info on Haute Summer Night and other Seattle fashion events, visit Fashion Network Seattle.