From our friends at The Find: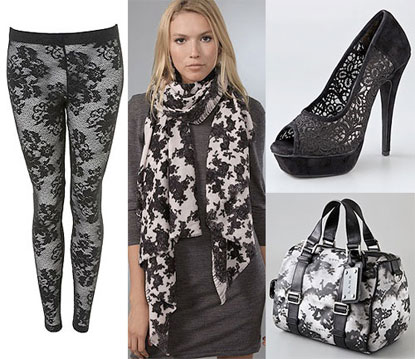 It seems like in every store I peruse through, there are racks and racks of lace-detailed tops and lace-trimmed skirts and dresses. I'm not sure when exactly the whole lacy look came back, but it seems like it's already gone into overkill mode! Don't get me wrong, I love the idea of lingerie-inspired looks, but when it's hard to tell if a dress is just "inspired" or is actually a negligee trying to be passed off as a dress, the whole "less is more" idea turns into just plain letting it all hang out rather than leaving things to the imagination.
In order to still incorporate the slinky, sexy lacy look without going overboard, I'm all about lace accessories for the season ahead. A lace print bag or a lacy scarf are great fall-friendly alternatives to going totally see-through with your tops or dresses. Or you can go GaGa with your hosiery by swapping your plain tights or leggings for lace print ones like these from Topshop. And last but not least, if you're feeling a little "blah" over your basic black pumps, these Jeffrey Campbell lace peep-toe platforms are a sexy way to indulge in the sheer trend!
– Alex Gambardella
Save on Lace Accessories at Shopbop from TheFind.com's coupon site