From our friends at College Candy:
When moving into either a dorm or an off-campus apartment, your wardrobe will face two major challenges:
1. A major lack of funding (to add more to it).
2. A major lack of storage space.
For these two reasons alone, maximizing what you do own becomes essential. And that's why I'm bringing back the Shop Your Closet series. Each week, I'll show you how to wear 1 item 3 ways – with the stuff you most likely already own! – to get the most out of your purchases. With the growing popularity of 6 Items or Less it can't be that difficult to remix one item, right?
My favorite clothing item this fall is the utilitarian military jacket. Originally popular in the grunge era known as the '90s, a utilitarian jacket in your closet is not only on-trend, but necessary. The military jacket – thanks to its neutral color and shape – is incredibly practical and versatile. There are very few things that can't be worn with one and its the easiest way to completely re-style the staples that are already in your closet. Check out Who What Wear to see how the celebs are embracing the army jacket.
Look 1: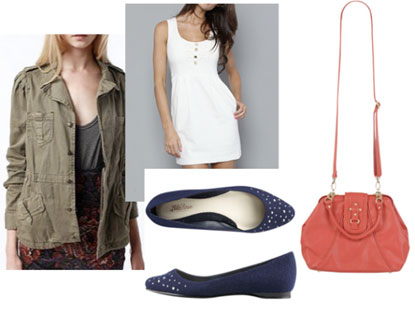 Jacket, Dress, Shoes, Bag. Add edge to a sweet dress with a military jacket. The toughness of the jacket juxtaposed with the femininity of the dress are the perfect contrast. As this dress is fairly simple, the studded detail on the shoes add some visual interest along with the pop of color. This is an easy everyday look, as the jacket makes the overall feel of the outfit more casual. Add a contrasting shoulder bag to incorporate even more color (and fun!) into your look.
Click here to see the rest of the article.