Great for Fall! Love Quotes Scarves 2 for $120 at Shopbop.com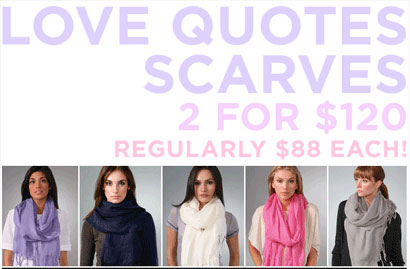 Shopbop.com is having a sale on the ever-popular Love Quotes Scarves. Great for bundling up in cooler weather, these colorful hand-knotted scarves can be worn tons of ways. Normally $88 each, at $60, these are a steal and a great Fall investment piece. Made from woven linen/viscose, each scarf measures 3′ wide by 6′ long – the perfect size to wear how ever you want.
Hurry! These will go fast…we are shopping for ours right now!