Winter weather leaves skin feeling dry, chapped and dull. Right now, hand cream is my best friend – I keep jars and tubes within easy access in my handbag, bathroom, desk and kitchen counter. But frequent hand washing can defeat the purpose of slathering on a thick hand cream, so sometimes the best way to treat dry skin is at night or while you are sleeping. Two of my current favorite hand treatments include MOR Cosmetics Hand Cream and Crabtree and Evelyn's Gardeners Hand Products.
If you are experiencing dry hands, I suggest you go out and snap one of these up immediately!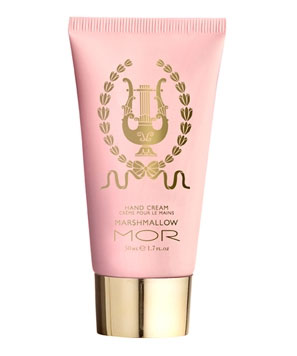 MOR Cosmetics Little Luxuries Marshmallow Hand Cream ($12). Made from rich shea and cocoa butter, plus essential vitamins, your hands immediately feel the benefits of this thick, rich lotion. The formula goes on thick but absorbs easily into skin. It comes with a pair of cotton gloves to put on, letting the treatment really absorb while you sleep. The MOR Marshmallow fragrance is actually quite pleasant, not too sugar sweet. A mixture of vanilla musk and jasmine flower, sugar dipped rose petals, white carnation, and cotton candy. Yum!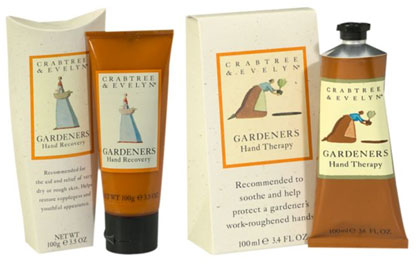 They call these "Gardeners Hand" treatments, but anyone can use them. I recommend using these two products together. First, us the Crabtree & Evelyn Gardeners Hand Recovery Treatment ($20) to slough off dry skin and dead cells, leaving hands polished, smooth and soft. It is simple to use and only takes a few minutes. Simply, apply a bit of the hand therapy treatment to dry hands and rub in for 15-20 seconds, like you are applying moisturizer. Then rinse and pat dry. Your hands will feel amazingly soft. The formula contains sea salt to help exfoliate, nut oil and shea butter for moisturizing and conditioning and lavender oil and oatmeal to sooth. I am truly addicted to this therapy for keeping my hands smooth and conditioned.
Next, use the Crabtree & Evelyn Gardeners Hand Therapy Cream ($15). The rich cream formula contains glycerin and shea butter for moisturizing and conditioning. It also has clover and chamomile for deodorizing and soothing. The treatment can be used on it's own for ever day, but it truly works its magic after the hand recovery scrub. Hands will feel soft and smooth for hours.
Both are scented with fresh green clover, lavender, sage rosemary and thyme – super light and not overwhelming at all.
Note: I purchased all of the above products.
What are your dry-weather beauty must haves?
Get the latest from Skinnypurse.com by following us on Twitter and FaceBook.