From our friends at The Find: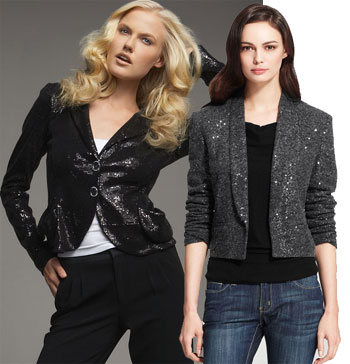 Set the trend, and shine brighter than ever, with asequin jacket ready to layer some extra bling, and menswear-inspired pizzazz, with every look you have in store for 2011. Elegant and comfortable, this outfit addition is not just for New Year's Eve parties. It can be worn in plenty more ways and for plenty more occasions, than one:
To turn structured shoulders into a smart and seductive look, pair a sequin jacket with leggings and high heels.
For something ultra-trendy, invest in a tailored pair of harem pants. Slip under a silk blouse, or a white tank top, and you're ready for work and play.
For something a little more relaxed, adding a graphic tee and jeans make it readily appropriate for simple days to the movies or mall.
Scrunched sleeves can give another definition to this overly fun piece. Roll-up, or pull sleeves above the elbow, for a less professional impression.
For a steal:
Kenneth Cole Sequined Knit Open-Front Blazer (shown at right)
For a splurge:
Nanette Lepore Ex-Lover Sequin Blazer (shown at left)