We are major fans of College Candy's Shop Your Closet series! Such a great way to mix-up your looks without spending a lot of money on new clothes. Check out this week's post about Rain Boots!
From our friends at College Candy: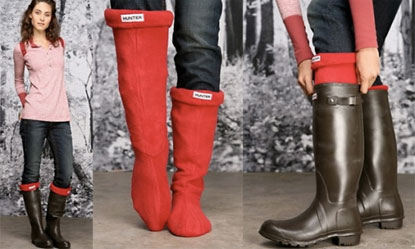 I love most things about fall – anything made with pumpkin, cozy sweaters and my TV shows starting back up – but the one thing I've never been a fan of is the dampness and rain that comes with all these wonderful things. At least until I invested in a pair of good quality rain boots. Now on those damp days my toes can stay warm and dry, even when I decide to go puddle-jumping (or am forced to when I try to cross a street and find myself ankle-deep in water).
If you have to walk any distance to school, you should own a pair of rain boots. Period. They are functional (keeping those tootsies dry), yes, but super fashionable as well. There are so many colors and styles out there and they're just plain cute. And when the temperature starts to drop, many styles even offer fleece liners to keep your toes extra dry and toasty all through the winter, making them a very good investment piece!
For this week's Shop Your Closet, I chose a pair of black boots that go with everything, but a lot of these looks could be adjusted for patterned or colored rain boots as well!
With a Skirt: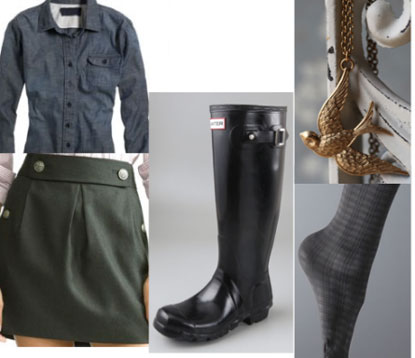 Boots, Skirt, Top, Socks, Necklace.
Yes, you can wear your rain boots with a skirt. In fact, swapping out your usual black knee-boots for a pair of rain boots makes for a completely new take on your wardrobe staples. I paired this super cute military-inspired skirt with knee socks that can peak out the top of your boots (so cute!), but you could just as easily wear tights instead. Add the denim shirt you bought in the spring, and a long necklace over top and you're all set to go for a beautiful fall day.
With Jeans: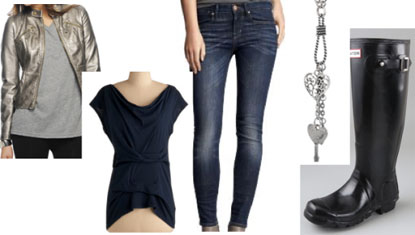 Boots, Jeans, Top, Jacket, Necklace.
Skinny jeans and rain boots make a perfect pair. No need to break into a sweat stuffing your straight leg style into the boot only to have them bunch up your leg for the rest of the day. These little guys slide right in. Add a pretty draped jersey tee (or any of your favorite tees) and a moto jacket for a casual daytime look. On a dry day your boots can easily be switched for a contrasting pair of flats, and when it gets cold you can layer on some tall, thick socks and an oversized sweater for an winter-appropriate version of this look.
Check out the rest of this article here!