This week I had the fun opportunity to play dress up at the vintage/modern boutique Rene Ropas. After attending the Rene Ropas Dollhouse Prom Fashion Show, and seeing all of designer Morgan Carson's creations, I knew I wanted to check out the boutique some more.
I was graciously greeted by the brand's designer, Morgan Carson, as well as Renado, the creative whiz behind her show's choreography. I also had the pleasure of meeting a few other members of Rene Ropas, including the resident pup, Flash. Morgan and I chatted for a bit over some tea, and she talked about her business and her inspiration, citing dance and movement as a main form of expression and freedom. She mentioned they had a show the night before and had another one later that day, and yet, she seemed utterly calm. I was amazed and inspired by her calmness!
After our chat, I was swept into the dressing room to try on my first outfit, a navy and grey crepe jumpsuit with a pop of pink. Morgan and Renado styled the outfit with a skinny white leather belt and vintage black and ivory and mother-of-pearl chunky necklace.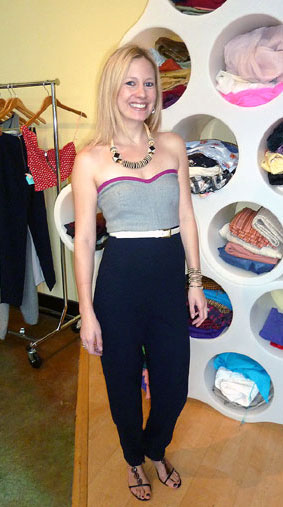 Next up, a cropped hounds tooth blazer and blue pencil skirt, worn over a vintage silky tank. The outfit was accessorized with a gold pendant necklace, stone belt and 50's patent satchel. I loved this ensemble – so ladylike. The jacket could be worn open or zipped, love that versatility.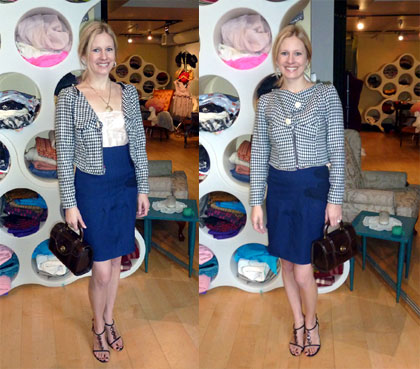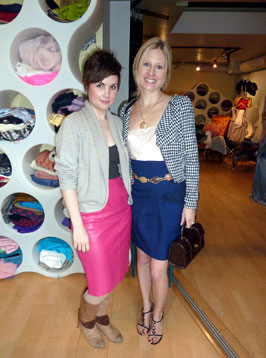 *Here's a snapshot of me with the lovely Morgan*
For my final outfit, I tried a vintage lace (French curtains at that) frock. Super feminine and frilly, the kind of dress that makes one feel a little bit like a princess. Styled with a crème slip underneath, Renado showed me how to whip up some texture underneath by creating little knots in the slip. Two black asymmetrical straps detailed the back of the dress – I loved the juxtaposition of romantic and traditional with modern and slightly sporty.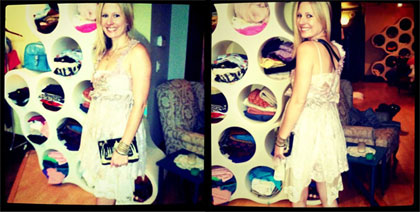 Morgan commented that her pieces are designed to be feminine without being overtly sexy, and I definitely saw this with her collection. She also sells amazing vintage jewelry, shoes and bags, all sourced with her design aesthetic in mind. I ended up buying the necklace I wore with the jumpsuit, couldn't resist!
Clearly, she's got some talent and a great team of people working with her. With the attitude of always moving forward and going bigger, not smaller, the Rene Ropas brand is expanding, not only in Seattle, but nationally. Yet, while growing at a fast rate, Morgan is committed to manufacturing locally and using vintage and recycled fabric for her designs.
I love the concept of a boutique that's more than a place to browse. It's a whole experience, whether you are looking for a custom-made special occasion dress or having a dress-up party with some girlfriends. I have some ideas swirling in my head around having Morgan create me the perfect New Years Eve outfit…
Rene Ropas Boutique is located at 2604 Western Ave., Seattle, WA 98121. For more info on Rene Ropas or to schedule an appointment to play dress-up at her boutique, visit ReneRopas.com.