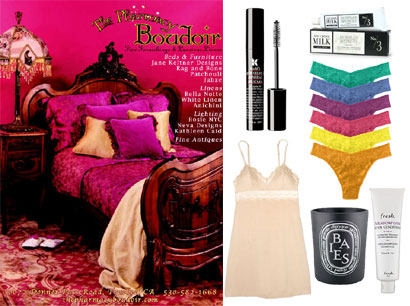 Who doesn't love stumbling upon a gem of a gem of a store. Last weekend, on a trip to Lake Tahoe, we did just that – Located in the historic downtown district of Truckee, CA, is a store called The Pharmacy. The beautiful window display caught our attention. It's a girly store – chock full of a generous, but well-edited selection of beauty and skincare products, candles, home and linen scents. The Pharmacy stocks well-known brands like Kiehl's, Diptique, Fresh, Archipelago Botanicals & Caldrea, as well as products from more obscure lines.
Then, there's the lingerie, swim and sleepwear selection, which includes items by Hanky Panky, Cosabella, and much more. We ended up purchasing some gorgeous product, as well as some undies and tanks from T-Box. Made in Istanbul, T-box products are compressed into a small cube, making them easily packable and easy to wash and wear. They come out wrinkled which gives a casual look.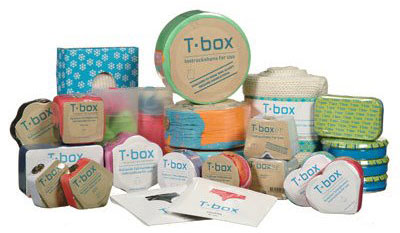 Upstairs, you will find luxury bath and bed linens from Bella Notte & Anichini, as well as beautiful antique furniture and chandeliers. The entire store is merchandised so beautifully. Deep red wall-papered walls, luxe fabric covered chaises, antique tables strewn with lace. We literally spent hours in the store. There were so many products to try on that you could be in there for days. The dressing rooms feel like you are in a luxurious old-fashioned parlor, and you should be dressed in an Edwardian-era corset/bustier. Heavy velvet curtains hang from the dressing room, where you can try on to your hearts content. There is also a spa located upstairs where they specialize in Kiehl's facials. While you are there, don't miss the Mercantile, just steps away from The Pharmacy. Here you will find clothing and accessories for women and children. They sell everything from James Perse soft separates to Goldsign Denim. And for kids there is Cotton Caboodle, and our personal favorite, little separates for girls and boys from Splendid and Ella Moss.
Overall, it was a fun, successful shopping trip! One note: They don't seem to have a web site (all listed ones were broken). Check this store out the next time you are near Lake Tahoe. Location: 10072 Donner Pass Road, Truckee, CA 96161.