From our friends at The Find: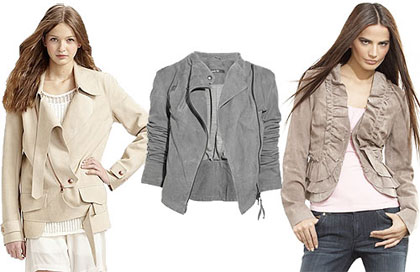 The leather moto jacket was last year's spring must-have (I should know — I spent months looking for the perfect one!), but this season's winter-to-spring transitioning staple is getting softer with suede! From blazers to bombers to biker styles and even cropped trenches, suede has a way of giving bolder styles a feminine edge and adds an instant sense of richness even to the most casual silhouettes. Plus, in those awkward in-between months it can be tough deciding how to dress to suit the season without freezing your butt off, so I'm all about the layers, and a suede jacket is a great way to stay warm while still looking season-appropriate and on-trend! Leave it up to Alexander Wang to keep things fresh with an asymmetric-zip coat that manages to stay breezy. Also, while I'm normally not a big fan of ultra-girlie details on jackets, I adore the ruching and ruffles of this INC suede jacket. The single closure cinches the shape in at just the right place! For a fashion-forward take on the classic biker jacket, I love this Ziggy suede jacket in dove gray. Layer it over a springy dress for the ultimate tough-meets-flirty look.
– Alex Gambardella
Nominate your favorite fashion brand for the Fashion 2.0 Social Media Awards by February 1st!