From our friends at The Find: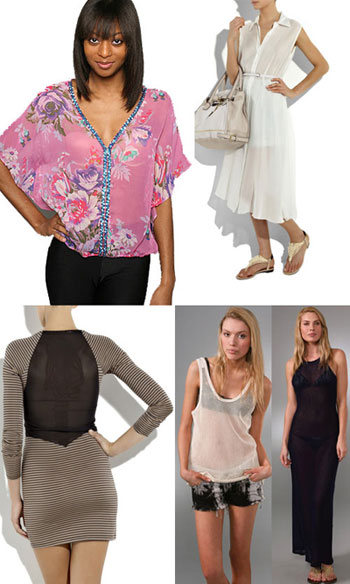 When I was in Indio, California last month for the Coachella Valley Music and Arts Festival (better known as just plain ol' Coachella), I had plenty of time to people watch while listening to my favorite bands play. I saw plenty of trends like cutout dresses, lots of neon and more sheer tops and dresses than I could count. At first I wasn't quite sure what to make of such a revealing statement, but the sheer trend definitely grew on me. After all, it's the perfect way to keep yourself ventilated in the high temperatures and still get a tan!
You can find a wide variety of sheer tops and dresses in stores now. From a flirty floral blouse like the Free People Sheer Genius Top, a sheer panel on the back of a dress or even a totally sheer tank top by Kain, there's one for everyone. Just remember to wear something underneath, ok? I saw way too many people go commando which totally soured the look! Try your favorite bikini top or a feminine bandeau bra that will keep the girls in their place.
Save on sheer tops and dresses at Revolve Clothing from TheFind's coupon site