From our friends at College Candy: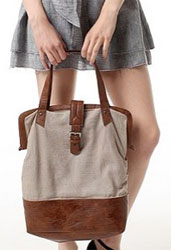 I have an unhealthy obsession with handbags, but then again who doesn't? It just seems like no matter how many you have thrown in the closet, an outfit always manages to emerge requiring a clutch or hobo that you don't own.
That bag for me at the moment is the Deena & Ozzy Canvas Menswear Tote from Urban Outfitters. I've already had a couple of warm weather ensembles that felt like they were missing something and the minute I laid eyes on this bag I knew it was just what I needed.
It reincarnates the lazy, romance of summer with its soft canvas material and adorable buckle strap closure. It reminds me of a student traveling abroad in a romantic European country. And I am ready to bring a little European romance into my totally average American life. The mix of details is genius; the classic canvas tote is updated with a rustic flare from the buckled closure and soft leather detailing.
And the bag is so versatile that you can choose to channel certain details to complete an outfit.
The faux leather trim would complete a sophisticated student look with a pair of cuffed boyfriend jeans, a tank and some oxfords, using the long strap to wear it as a cross body tote. Remove the straps and you've got a chic addition to a floral summer dress and a jean jacket. It would even be adorable as a beach bag, big enough to stuff in a towel and some sun block, and an unexpected touch to a string bikini top and some white linen Capri's (not to mention how seamlessly it would transition from the sand and sun to cocktails on the boardwalk).
And the designer made sure to appeal to a variety of styles by making it in three very distinct color combinations. I'm loving the ivory as my style is feeling more classic and fresh this summer, but for a more modern look the white canvas and black leather has a chic, retro feel, and the pastel blue canvas is perfect for the girly girls among us looking for something more feminine and flirty.
By Anna R – Northeastern University