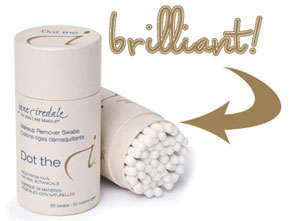 It's not every day that you come across a beauty product so brilliant it makes you wish you had thought of it. Well, this weekend I was getting my makeup done for a fundraiser event by the fabulous Michael Bride, and he filled me in on a great little product by Jane Iredale.
Dot the I Makeup Remover Swabs are single-use cotton swabs containing eye makeup remover. Each soft swab contains a pre-measured amount of gentle eye-makeup remover. Simply bend and snap one end of the swab to get the product moving, swipe under eyes, and toss. Voila! No more spitting on your Q-tips to touch up your eye makeup! (You know you've done it).
Note: When you use a swab, make sure to gently tap the side you will be using against your finger to get the makeup remover moving into the cotton and wipe off any excess. Perfect for at home or on-the-go. I even brought one to my event for a mid-party touch up.
Jane Iredale, the frontrunner in mineral makeup, has consistently brought us products that use natural ingredients. I've been a long time fan of her PurePressedR Base Mineral Foundations. The eye-makeup remover in Dot the I Makeup Remover Swabs is alcohol-free and safe for contact lens wearers and sensitive eyes. Organic ingredients like lavender flower water, algae extract and aloe leaf extract calm, conditions, and nourishes the tender skin around the eyes.
I'm so excited about these little wonders, I'm buying a few packs right now!
*This post contains affiliate links. See our disclosures for more info*